ASUS Eee PC 1215B Netbook review index
14 – ASUS Eee PC 1215B: Conclusion
Like other netbooks, the major drawback of ASUS's EeePC 1215B with its Fusion Brazos APU (C-50 CPU and Radeon HD 6250) is its sluggishness. It's not related to AMD Fusion APU but to the fact that low power components must be used to realize an ultraportable.
The C-50 CPU is a bit slow with its 2 cores (compared to Intel 4-core N550) and the HD 6520 is dreadfully slow if you go beyond light 3D apps. If you run non-intensive GPU apps like the simple mesh (OpenGL 1.2) or the cel-shading (OpenGL 2) demos of GPU Caps Viewer, you get decent framerates (more than 100 FPS). But forget real gaming with this GPU.
Okay the the HD 6250 is slow BUT it's a Direct3D 11 and OpenGL 4 capable GPU and it's very nice to see these capabilities in a netbook. You can test any modern 3D applications and that works. Okay some apps will run slowy but they run! And for a netbook, this is the most important thing. Then you can display WebGL applications without problem.
What's more, this netbook also supports OpenCL 1.1, the latest specification of the popular computing language. And since AMD provides the CPU and GPU codepaths for OpenCL, you have a 100% computing netbook. Ready for WebCL.
Now the noise level… barely audible (only if you stick your ear on the netbook). Even under load, there's no difference. This netbook is realy quiet.
The keyboard is spacious, comfortable and responsive, and the battery can supply enough juice for at least 5 hours of normal usage.
The 12.1-inch LCD screen (1366×768) is bright and details are sharp. The speakers produce a clear and well audible sound. I enjoyed Luther Vandross even if the basses are not really present (a bit though) on such a kind of computer.
ASUS's Eee PC 1215B is shipped with Win7 64-bit, but if you're a Linux-addict, you can boot on an USB key and easily install your favorite distribution.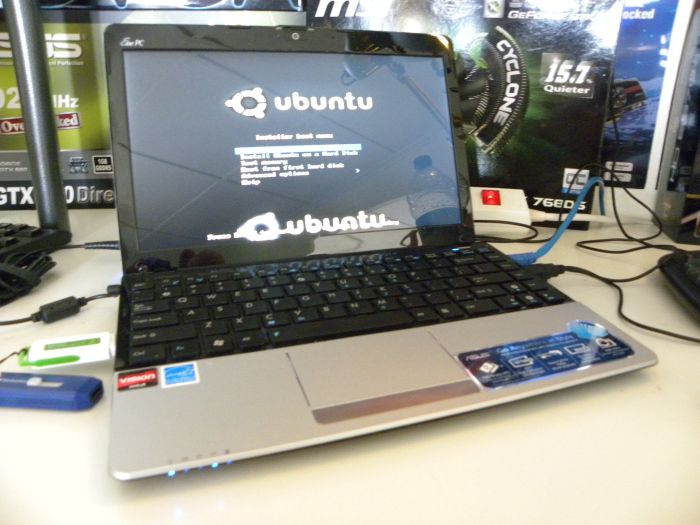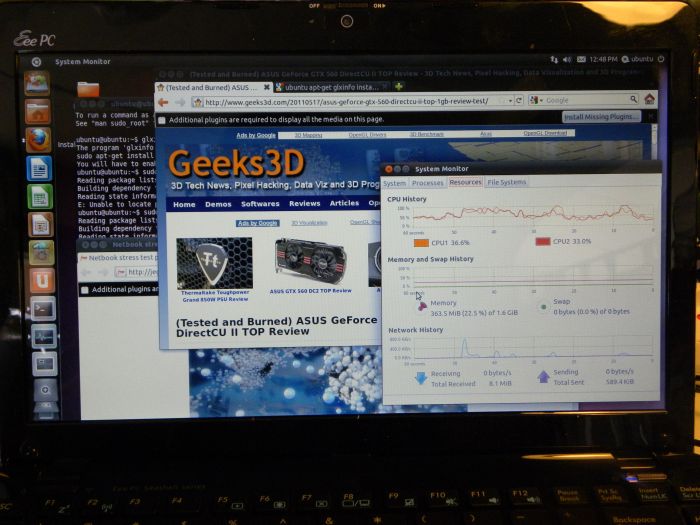 The Eee PC 1215B is priced at around 400 euros. It's a bit expensive but this is the price to have the latest hardware (AMD Brazos Fusion APU)
squeezed in this ultraportable…
In a word: if you need a WebGL / WebCL ultraportable to surf the Net, do no hesitate, ASUS's Eee PC 1215B is a good choice!

ASUS Eee PC 1215B Netbook review index