ASUS Eee PC 1215B Netbook review index
11 – ASUS Eee PC 1215B: OpenCL Test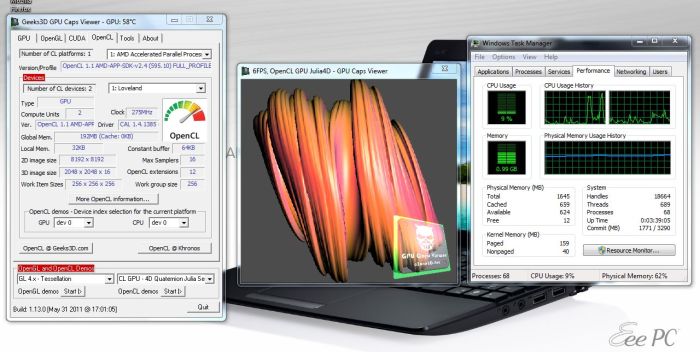 OpenCL GPU, Julia4D: 6FPS
I did a quick test of the OpenCL support with the Julia4D demo of GPU Caps Viewer. And since AMD supports both CPU and GPU OpenCL paths, we can compare both processors: C-50 vs HD 6250.
Julia4D demo resolution: 400×400 windowed.
The GPU version ran at around 6 FPS with a small impact on the CPU while the CPU version ran at 1FPS (with both cores fully loaded –normal!).

OpenCL CPU, Julia4D: 1FPS
ASUS Eee PC 1215B Netbook review index