ASUS Radeon HD 6670 review index
6 – ASUS Radeon HD 6670 Power consumption and temperature
The Radeon HD 6670 is not a card designed for hardcore gamers and then overclocking this card is not really important. That's why no overclocking test is present in this article. But I did a minimal test of power draw and GPU temperature. For this stress test, I used FurMark 1.9.0.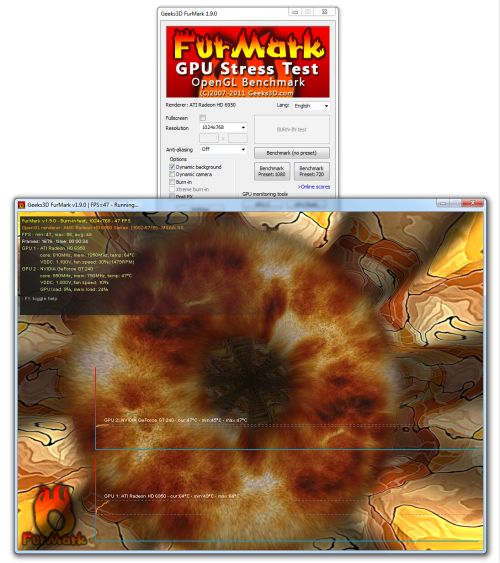 At idle, the total power consumption of the testbed is 92W and the GPU temperature of the HD 6670 is 32°C. When FurMark is running (1920×1080 fullscreen, burn-in test), the total power consumption reaches 194W while the GPU temperature finds its max value at 64°C.
The power draw of the HD 6670 alone can be approximated with:
(194 – 92) * 0.9 = 92W
where 0.9 is the PSU efficiency factor. For the Corsair AX1200 PSU, this factor is around 0.9 (see this article, there is a graph of the AX1200 efficiency).
The official TDP of the HD 6670 is 66W. Keep in mind that this TDP is the power draw of the board under typical gaming situation. FurMark represents the peak 3D usage. You must have a good quality motherboard because the HD 6670 has no additional power connector. Then all the power required by the HD 6670 comes from the PCI Express slot with is limited to 75W according to the PCI Express specifications. Fortunately, many motherboards can supply more than 75W via the PCI Express slot but it's something you have to pay attention.
The fan of ASUS HD 6670 VGA cooler is not noisy but in an open case, you can hear it (default fan speed is 39%). And under FurMark, the noise level remains the nearly same. In any case, the noise level is very acceptable.
ASUS Radeon HD 6670 review index