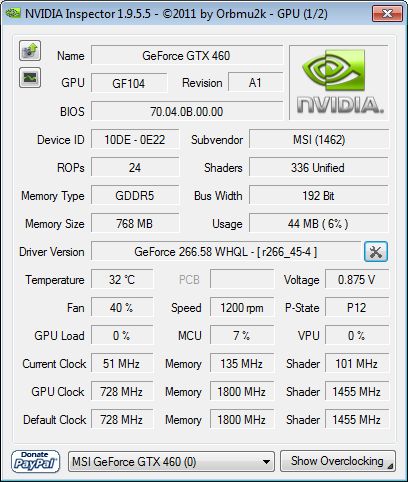 A new update of NVIDIA Inspector is available. NVIDIA Inspector is a monitoring and tweaking tool for NVIDIA-based cards only. Like GPU Caps Viewer or GPU-Z, it displays the important information in the main panel and offers other useful tools like an overclocking panel or a profile editor.
You can download the latest version of NVIDIA Inspector here:
[download#210#image]
Version 1.9.5.5 changelog:
fixed: running MDPS wont be recovered when using webupdater (this fix applies with the next webupdate first)
fixed: modified profiles were not updated on create/delete profile and reset value
added rescan of modified profiles after importing profiles
reset profile now works on user created profiles too
decreased monitoring border width
further improved scan speed for modified profiles
massive scan speed improvement for unknown settings
removed scan progress dialogs
automatic scan for unknown settings and modified profiles on startup
changed the "scan for unknown settings" button behavior to just toggle the display of unknown settings (unknown values will still be listed in value selection even if unknown settings display is not activated)
possible fix: application crash on profile settings start occured on a few systems
HOTFIX: some modified profiles were not found
Homepage: NVIDIA Inspector 1.95 – Tool.