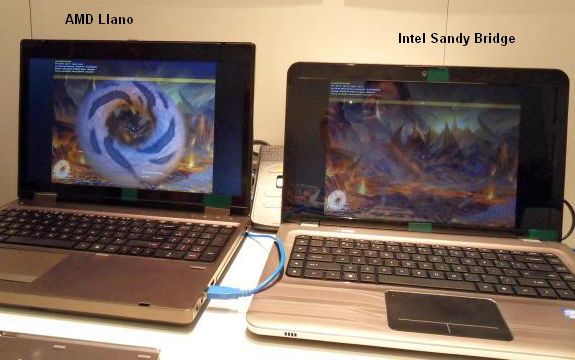 FurMark 1.8.2 with displacement mapping enabled
At the CEBIT 2011, AMD has demonstrated the superiority of its LIano APU vs Intel Sandy Bridge processor. Among the applications used, there was FurMark 1.8.2. In 1280×1024, AMD LIano (1.18GHz) plays FurMark at around 18FPS while Intel Sandy Bridge (Core i7 2630QM @ 2GHz, with a HD 3000 GPU) runs FurMark at around 10FPS.
And when AMD enabled the displacement mapping option, AMD was happy to show the rendering bug of Sandy Bridge…
But this bug is strange, because Intel has recently updated its drivers with optimizations for some Geeks3D's apps like FurMark or FluidMark (see HERE for more details). Maybe AMD has used an older driver. I'll try to test the Sandy Bridge processor with my OpenGL app asap.