MSI has released a new Radeon HD 6870 for overclockers: the R6870 Hawk. This card comes with a 10-phase VRM (8 for the GPU and the others for memory and PLL), voltage check points, the new Twin Frozr III VGA cooler and a factory-overclocked GPU (Barts XT) at 930MHz (ref: 900MHz).
In my review of SAPPHIRE HD 6870 with reference cooler and clock speeds, I found that the max GPU temperature under FurMark 1.8.2 was 85°C for a GPU core clock of 900MHz and 86°C at 940MHz.
According to KitGuru tests, under FurMark, the R6870 Hawk does not exceed 65°C which is 20°C lower than reference cooler. KitGuru has also introduced a new test called Return To Idle (I like this name!):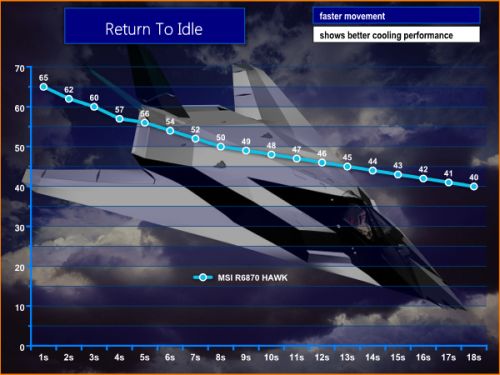 The Twin Frozr III is able to return to idle temperature in around 20 seconds. This is a good indication of how quickly a heatsink can dissipate heat. I think I will shortly test the Return To Idle of some cards because 20 seconds sound fast but actually I don't have reference values…
One another interesting feature of this HD 6870 is the OCP unlocker: the OCP, or Over Current Protection, can be disabled which offers more headroom for overclocking…
The R6870 Hawk is priced at around 250 euros.
KitGuru has also tested the R6870 Hawk with TessMark and ShaderToyMark.
Final verdict:
The MSI R6870 HAWK is an extremely capable card and we think the Twin Frozr III cooler is quite possibly the best on the market. Those readers who follow our content regularly will remember that we reviewed the Sapphire HD6870 Toxic Edition last week. This card was able to maintain gaming temperatures at 67c while only generating 35.4 dBa of emitted noise. The R5870 Hawk has outperformed this card by reducing the gaming temperatures to a staggering 59c while only generating 34.7 dBa of emitted noise.

The overclocking prowess of this design is fantastic, helped dramatically by MSI offering three separate voltage adjustments via software. We were able to get the core to 1040mhz and the memory to 1205mhz (4820mhz effective). Very commendable results indeed.