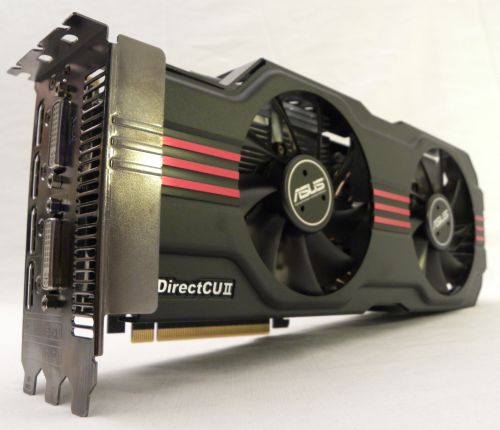 ASUS HD 6950 DirectCU II review index
1 – ASUS HD 6950 DirectCU II: Presentation

ASUS HD 6950 DirectCU II is an enormous card with its big 3-slot cooling system based on the DirectCU II technology (air cooler).
DirectCU II is based on ASUS DirectCU architecture, and uses three copper heatpipes in direct contact with the GPU to speed up heat dissipation. Two 100mm fans generate the airflow required to cool the GPU.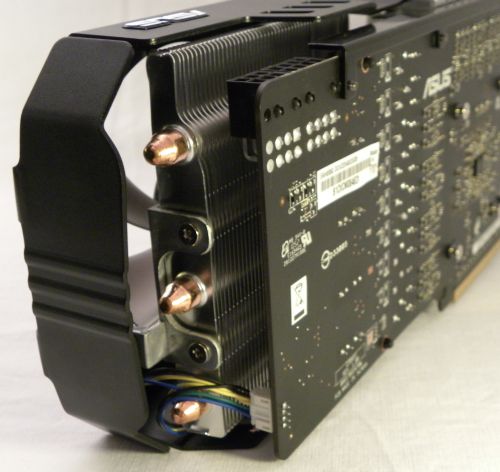 This cooler is imposing but is it efficient? Is it able to cool the GPU even with high overclocking settings? Because with such a big cooler, we're going to overclock the GPU of this beast to the max to see if it's worth while to have a very bulky card in the PC. You'll find the answer in the overclocking part of this article.
For the rest, this Radeon HD 6950 (EAH6950 DCII) has the same features than ASUS's HD 6950 (with reference cooler).
The HD 6950 DC2 is based on a Cayman PRO GPU with 1408 shader processors. The GPU is slightly factory-overclocked at 810MHz (ref: 800MHz) and the 2048MB of GDDR5 memory embarked on the PCB are clocked at 5000MHz effective speed (more details on memory speed can be found here).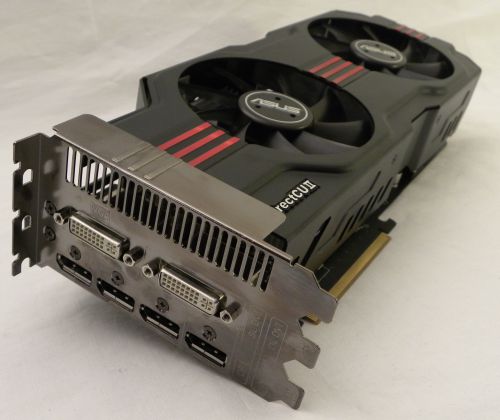 Like all Radeon HD 6900, this HD 6950 features a power monitoring hardware that dynamically adjusts the GPU clock speed to keep the power draw within the specifications. This power limiter technology is called PowerTune (see here for more details: Radeon HD 6970 PowerTune Technology Tested).
ASUS's HD 6950 DirectCU II is a and OpenGL 4.1 capable graphics hardware. The card also support OpenCL 1.1, the standard GPU computing API. Cayman PRO is AMD's second (even third) generation of DX11-class GPU.
The card features 2 x DVI and 4 x DisplayPort connectors. Therefore, you'll be able to connect up to 6 monitors and enjoy the Eyefinity technoloy.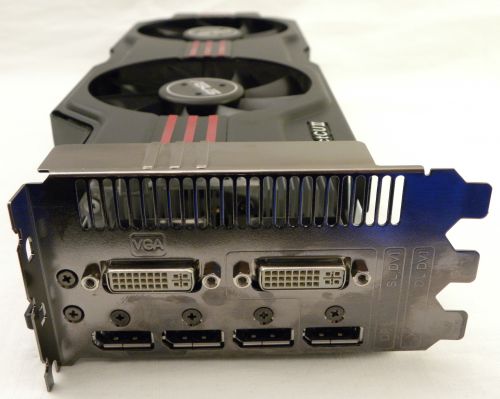 Like all other HD 6970 and HD 6950, this HD 6950 DC2 is equipped with a dual-bios: the first bios can be flashed (read/write mode) and the second bios is a security bios (read only) you can use in case of a bad bios flashing. Thanks to this nice feature, you can safety flash your HD 6950 bios and get the HD 6970 performances: Transform Your HD 6950 Into a HD 6970 at No Cost.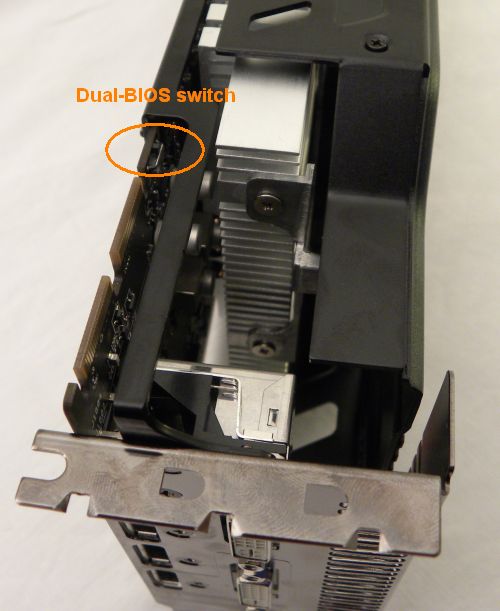 Two CrossFire connectors are available for n-way CrossFire but its monster cooler, 2-way CrossFire with the max.
A regular Radeon HD 6950 has two 6-pin power connectors on the PCB. But here, we are in front of an extreme card designed for massive overclocking: one 6-pin and one 8-pin power connectors are available to properly feed the card for a stable overclocked running: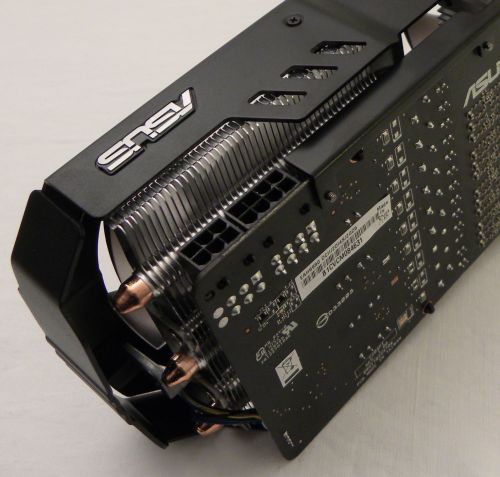 The bundle is very simple, no toys for geeks, just the minimal stuff: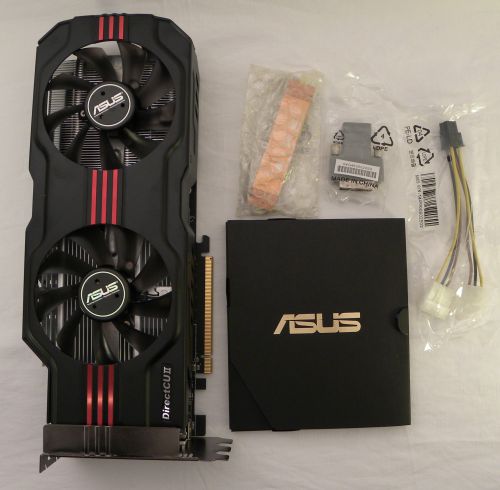 However, we have to notice that SmartDoctor, ASUS's graphics card overclocking utility, is shipped with the bundle (CDROM):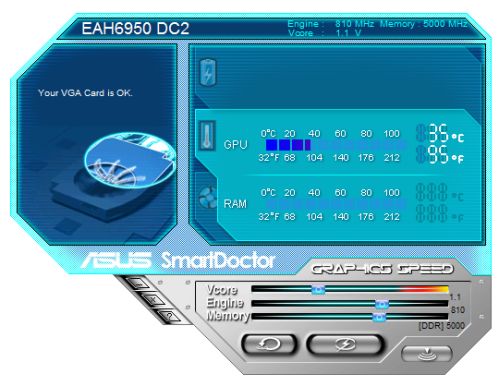 And competitors? The freshly released GeForce GTX 560 Ti is the most serious competitor of this HD 6950.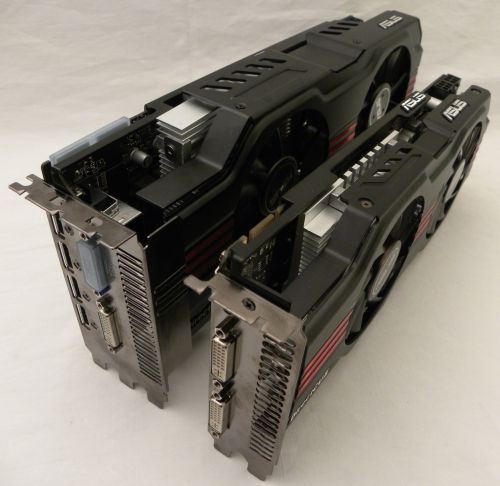 HD 6950 DC2 seems to dominate the GTX 560 Ti DC2 😉
ASUS HD 6950 DirectCU II review index