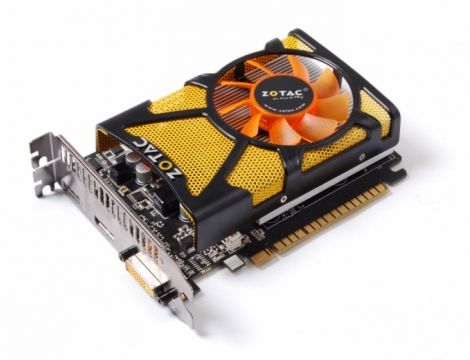 Zotac GeForce GT 440
NVIDIA has officially launched the
GeForce GT 440
. This is the retail version of the previously released
GT 440 reserved for OEMs
. The OEM version has more shader cores (144SP, based on GF106) than the retail one (96SP based on GF108). GT 440 OEM and GT 440 retail are different cards.
Actually this newly released GeForce GT 440 is based on the same GPU than the GeForce GT 430, but with improved memory support.
GeForce GT 440 Overview
Here are the specifications of the GeForce GT 440:
GPU: GF108 @ 810MHz, 40nm
Shader processors: 96
Memory: 512MB, 1024MB or 2048MB, GDDR3 or GDDR5, 810MHz real speed, 128-bit
TDP: 65W
APIs: OpenGL 4.1, Direct3D 11, OpenCL 1.1, PhysX, CUDA
Price: around USD $100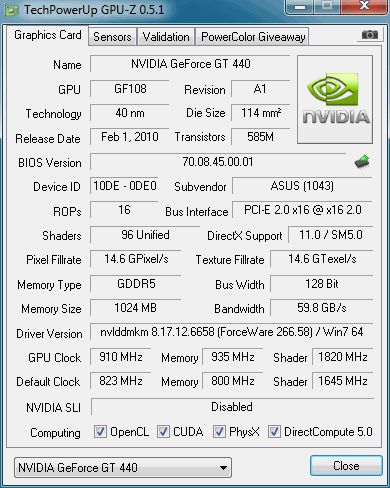 ASUS GeForce GT 440, GPU-Z
Reviews and news
From TPU:
NVIDIA's GeForce GT 440 is not really a new kid on the block. It has been available for OEMs to use in their pre-assembled systems since fall last year. Last year's GT 440 OEM is a fundamentally different design than today's GeForce GT 440. Whereas GT 440 OEM was based on GF106 with 144 shaders, NVIDIA's new GT 440 uses GF108 with 96 shaders – essentially the same configuration as GeForce GT 430. The major difference between GT 430 and GT 440 is that GT 440 can be equipped with fast-running, but more expensive, GDDR5 memory.

GeForce GT 440 is really not made for gaming, even though we see it manage 1024×768 at lower detail setting in older titles. If you are into 3D gaming then you should really look at GTS 450 which costs around $30 more but is 70% faster.