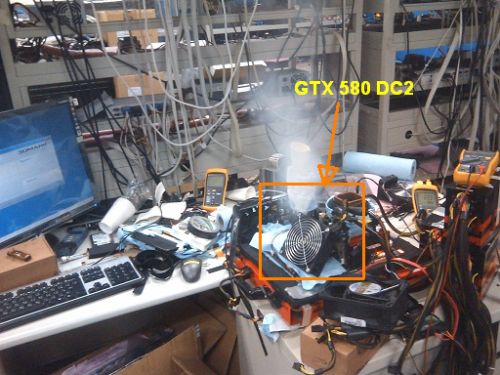 I just tested ASUS's Radeon HD 6950 DirectCU II and this card has some nice overclocking capabilities due to the Cayman PRO GPU + custom PCB + power circuitry + VGA cooler (DirectCU II).
So I was only half-surprised when I read this story: a member of XtremeSystems forums (the famous Shimano) has pushed the GPU of an ASUS GeForce GTX 580 DirectCU II up to 1519MHz!
Why it's an impressive overclocking? Because the reference clock speed of the GF110 GPU is 772MHz: 1512-772 = 740MHz. The overclocker has managed to double the GPU core clock speed! Only on some well designed cards you can do this massive overclocking (the PCB and power circuitry must have very high quality components).
Of course, the bulky 3-slot VGA cooler (DirectCU II) has nothing to do in this overclocking: only LN2 cooling is used (LN2: liquid nitrogen: -196°C).
The overclocker give some important details about voltages (with the help of some pcb hardmod):
– 1.5V Vcore
– 2.12V memory
– 1.36V PLL
Other important detail: GTX 580 OCP has been disabled by hardware modification on the PCB.
In any case, only real hardcore overclockers can do such an amazing overclocking. Nice work!
With such an overclocking, SLI is useless 😀
And what about the quality of the GPU? ASUS has certainly selected some of the finest GF110 for its card. The same ones targeted by NVIDIA for the upcoming GTX 590…