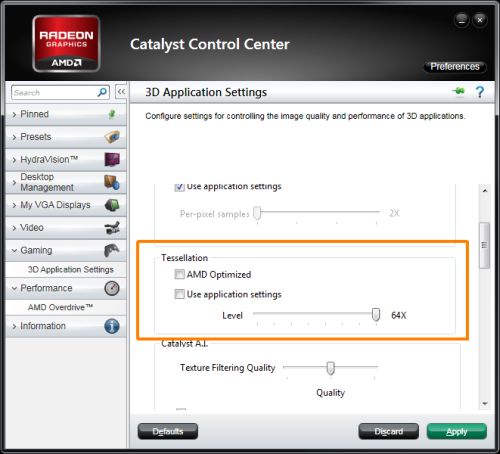 AMD has released a hotfix for the upcoming Catalyst 11.1… They fix bugs before they occur 😀
Actually this hotfix seems to be focused on the support of tessellation for the latest HD 6900 series.
You can download Cat 11.1 hotfix HERE.
According to AMD press release, there is a serious performance boost of OpenGL tessellation in Unigine Heaven:
Unigine Heaven OpenGL performance improves ~10% at moderate, 30% at normal and 100% at extreme tessellation levels
Here are some details about the new tessellation settings in CCC:
The Catalyst Control Center includes an early prototype of some new tessellation controls. Our goal is to give users full control over the tessellation levels used in applications. The default selection "AMD Optimized" setting allows AMD, on a per application basis, to set the best level of tessellation. The intention is to help users get the maximum visual benefit of Tessellation, while minimizing the impact on performance. Currently no applications have been profiled, so the "AMD Optimized" setting will be non-operational until further notice.
The "Use Application Settings" option gives applications full control over the Tessellation level. Users can also manually set the maximum tessellation level used by applications with the slider control
The long term goal for the "AMD Optimized" setting is to use the Catalyst Application Profile mechanism to control the AMD recommended level of tessellation on a per application basis. AMD's intention is to set the tessellation level such that we will not be reducing image quality in any way that would negatively impact the gaming experience.
I'm currently testing Cat 11.1 and tessellation support in OpenGL is not really what AMD claims in the press release. Stay tuned!