SAPPHIRE Radeon HD 6970 Review Index
8 – SAPPHIRE Radeon HD 6970: Conclusion and Misc Links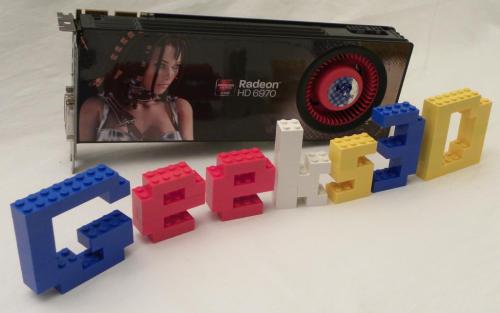 We feel the Radeon HD 6970 is a powerful card: same level of score than a GTX 480 in FurMark 1.8.2 or 3DMark11, faster than a GTX 480 in Unigine Heaven D3D11, in 3DMark11 extreme mode or in Alien vs Predator, faster than all cards in MSI Kombustor Direct3D 9, faster than a GTX 580 in the HDRToneMapping Compute Shader 11 demo. In other tests, especially in OpenGL tessellation, the scores are not coherent. In TessMark, the HD 6970 is behind the HD 6870 which is not normal and should be at least twice or tree times faster than a HD 5870 (according to some presentation slides). I think this particular problem comes from the OpenGL drivers that are not optimized yet for the Cayman GPU and therefore, we can expect a massive performance boost in future updates of Catalyst.
I don't know if this is the explanation, but it seems that the NBodyGravityCS11 demo shows the limits of the vec4 (or VLIW4) limit compared to Cypress vec5 units (or VLIW5). In this demo, the HD 5870 is faster than the HD 6970, certainly thanks to the dedicated math stream processor (or SFU) of the Cypress vec5 units. Or maybe, it's a driver issue…
I think the HD 6970 will really show what there is under the hood in the next weeks with new Catalyst updates. I really want to know the real OpenGL tessellation performance of the Cayman GPU!
I liked the backplate of HD 6970 reference design and the stock VGA cooler is very quiet in normal working but can be noisy if the HD 6970 needs to cool the GPU.
PowerTune is a useful technology to keep the card in its electrical specifications. The default PowerTune settings (0%) works fine for all 3D applications except with some GPU intensive ones called outlier applications by AMD. And FurMark is an outlier app. But, and this is the big difference with NVIDIA GTX 500 power draw limiter, you can manually unlock the power limiter (PowerTune set to +20%) to a higher value which allows a normal working of FurMark. Other fundamental difference with NV OCP (over current protection), is that AMD PowerTune is a pure hardware solution: no need to check a blacklist to see if an app is clean or not like NVIDIA does.
From my tests with the new FurMark, PowerTune works as expected: PowerTune +0% throttles back the card because FurMark is too intensive but with PowerTune +20%, FurMark is not limited and the HD 6970 pulls a power near to its extreme limit (TDP=250W).
And the 2GB of GDDR5 memory? Certainly useful with Eyefinity or if you have an application that uses many hi-res (4k, 8k or 16k) textures. I should code a small demo with many big textures to see the real impact of those 2GB of video RAM…
I'd like to thank SAPPHIRE for this sample of Radeon HD 6970. Thanks!
Other reviews

Review: Sapphire AMD RADEON HD 6970 2GB + Benchmarks (Battlefield Bad Company 2 Vietnam)
[youtube nSysZJMlRmg]

SAPPHIRE Radeon HD 6970 Review Index