AMD has released a new
Direct3D 11
tech-demo in order to show the advanced caps of new
Radeon HD 6900 Series
.
You can download the 655MB demo from this page: Radeon™ HD 6900 Series Graphics Real-Time Demo.
Hi-resolution pictures of the demo can be found here: AMD HD6900 Mecha HK-2207 tech demo – (15 pictures total).
The HK-2207 real-time demo features a number of post processing effects (depth-of-field, lens flare, ghosting, aerial perspective/atmospheric, LUT, emissive and reflection) provided as an easy approach for developers and artists to adopt Microsoft DirectX 11 programming. Each effect can be toggled on or off during the demo. And when LUT is enabled, various look up tables (LUTs) can be cycled through. This demo also uses a current trend in game engines utilizing deferred lighting and deferred shading allowing many more lights and rapid prototyping. A newly developed GPU accelerated physics particle system is introduced utilizing DX11 DirectCompute. Bullet Physics is used with a new fracture/destruction approach that also features procedurally generated unique debris leveraging DX11 tessellation. Deferred shading does not permit the use of traditional anti-aliasing. AMD introduced a new Morphological AA based on DirectCompute in the latest Cayman drivers that can only currently be enabled via Catalyst Control Center.
On my SAPPHIRE Radeon HD 6870, the demo runs at around 30-40 FPS: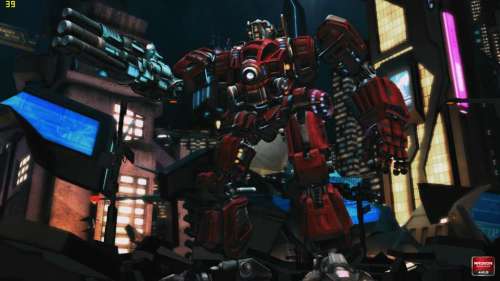 Honestly… not a big demo (from the rendering point of view). We are at the end of the year 2010 and how this kind of picture is possible in a DX11 tech-demo:

Where are the shadows? Tons of lights is a deferred rendering engine is cool but without shadows, the scene is not credible. What do you think dear readers?
And to finish, here is the GPU usage of the SAPPHIRE HD 6870: