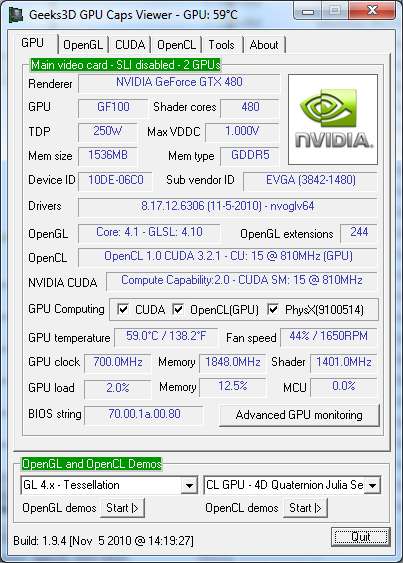 NVIDIA R263.06 + GTX 480 – GPU Caps Viewer
If you're like me, a bit lost with all recent NVIDIA graphics drivers,
here is a quick round-up of recent graphics drivers from the green firm. Some are for GTX 580, others for developers or for all GeForce except GTX 580 and GTX 460 SE… Why to make things simple when you can make them complicated?
1 – R263.09 WHQL: GTX 580 and GTX 460 SE only
2 – R263.06 for developers: no GTX 580 support!
You're a developer, you need the new CUDA 3.2 toolkit and your only card is a GTX 580? It's too bad for you, NVIDIA has forgotten GTX 580 support in the latest R263.06…
3 – R263.00 WHQL: All GeForce Except GTX 580 and GTX 460SE
Of course this driver is not available on NVIDIA website. Fortunately, TechConnect is there!
If you're not a developer and don't have a GTX 580, this is your driver.
R263.00 WHQL driver is dated October 31st, and features support for GeForce 6, 7, 8, 9, 100, 200, 300 and 400 series cards, and ION GPUs. The package includes the 3DVision 263.00 driver and the HDaudio drivers, and the PhysX System Software 9.10.0514.
Hummm… at the time of writing, it seems that TC has a problem with R263.00 downloads.