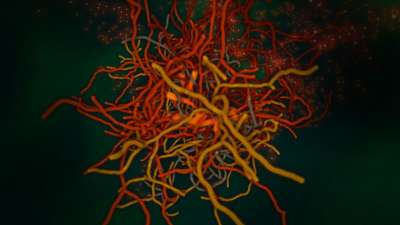 Here is a 4k intro that uses only point sprite particles.
Zero polygons, one shader, two days of party scripting.
This is a Direct3D 9 prod that requires the support of large point sprites (in Direct3D 9, the max point sprite size on NVIDIA is 8192 pixels but it's limited to 64 pixels in OpenGL… not cool!) while on ATI this is limited to 256 pixels:
Requires a Windows PC with:
– Up-to-date DirectX runtime (d3dx9_42.dll)
– Shader model 2.0 or better
– Support for large point sprites (Most NVIDIA cards should be fine. On ATI and Intel cards, the background will look somewhat blotchy, due to a maximum point size of 256 pixels.)
You can download this 4k prod from here: Wishful Twinkling by Fnuque and Loonies.
High resolution screenshots are available in the Big Pictures section:
[Demoscene] Wishful Twinkling by Fnuque and Loonies (5 pictures total)