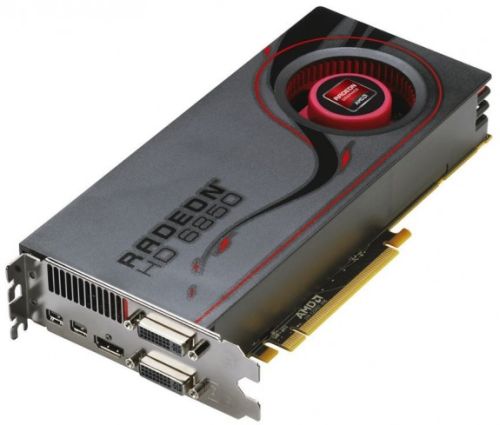 AMD Radeon HD 6850 reference board
AMD's Radeon HD 6850 is a limited version of the Radeon HD 6870: two SIMD engines have been disabled. What does it mean? Simply that the Barts PRO GPU, hidden behind the VGA cooler of the HD 6850, features 960 scalar processors instead of 1120 for the HD 6870 (each SIMD engine has 80 scalar processors). The Radeon HD 6850 is priced at USD $179.
Specifications
Here are the official specifications of the HD 6850:
GPU: Barts PRO @ 775MHz, 1.7 billion transistors, TSMC 40nm
Scalar processors: 960
Memory: 1024MB GDDR5 @ 1000MHz real speed (4000MHz effective), 256-bit (see HERE) for memory speed details)
Color ROPs: 32
Texture units: 48
TDP: 127W (idle: 19W)
Power connectors: one 6-pin
3D APIs: OpenGL 4 and Direct3D 11
GPU Computing: OpenCL 1.0, DirectCompute 11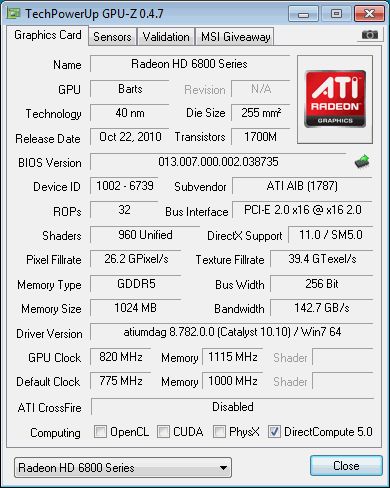 Some HD 6850 come with 1120 shader processors enabled…
For performances (OpenGL and Direct3D) just jump to the Radeon HD 6870 article.
We can all the same mention the OpenGL 4 tessellation score with TessMark (normal tessellation mode: X16):


Single HD 6850, source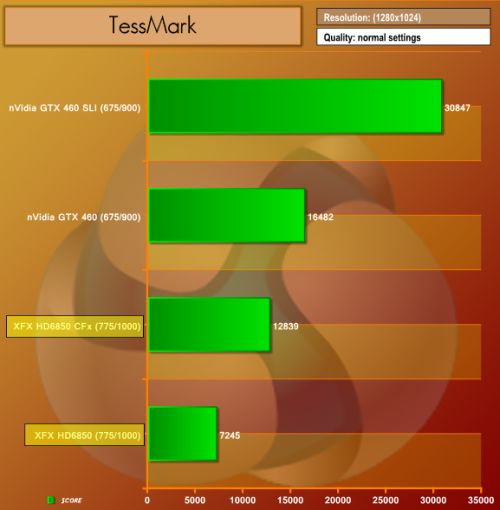 HD 6850 in Crossfire, source
And here is the score in ShaderToyMark:


Single HD 6850, source
Power consumption and GPU temperature
You can find other tests with FurMark
HERE
and
HERE
.
Radeon HD 6850 Specific Reviews
Radeon HD 6850 Round-up
HD 6850 VGA cooler seems to be a great source of inspiration for our graphics card makers…