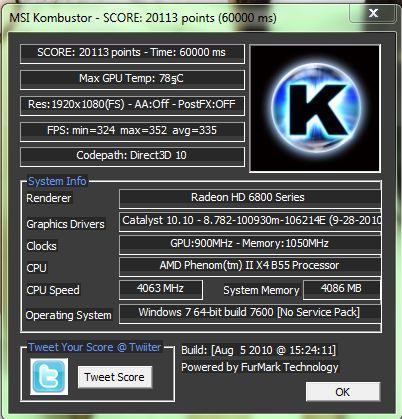 Radeon HD 6870 score in MSI Kombustor: 20113 points
I just found on [H]ard|OCP forums the
MSI Kombustor 1.1.3
score of a
Radeon HD 6870
(with Catalyst 10.10). The settings are 1920×1080 fullscreen, 60 seconds and unlock power draw UNCHECKED (default mode), no AA and no postfx.
I quickly ran a the same test with my GTX 460:


GeForce GTX 460 score in MSI Kombustor: 9238 points
This is interesting because MSI Kombustor like FurMark is very GPU intensive and the CPU does not affect much the final score. Of course FurMark-like tests are not representative of real 3D tests like in game rendering but it shows the GPU raw power…
At the end of the test, the Bart XT GPU reached 78°C. Since the default mode of MSI Kombustor is really soft for modern GPUs, the HD 6870 GPU could reach 90°C under a violent stress test…
UPDATE
I just tested Kombustor with a Radeon HD 5870 with the same settings: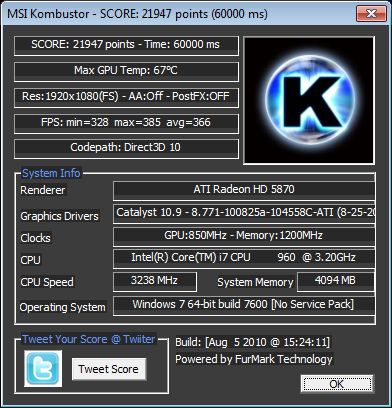 Radeon HD 5870 score in MSI Kombustor: 21947 points
With its 1120 cores, the HD 6870 is not too far from the HD 5870 (Cat 10.9)…
I also found the score for a Radeon HD 5850 (from XtremeSystems forums):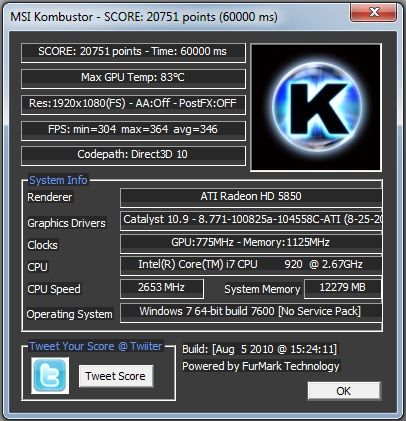 Radeon HD 5850 score in MSI Kombustor: 20751 points
Conclusion: HD 6870 twice faster than a GTX 460? Yes it's normal, because previous gen was already twice faster (in Kombustor…).