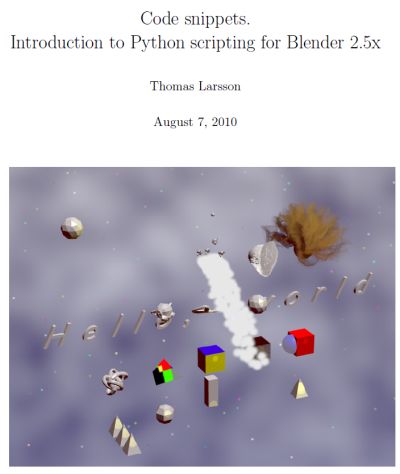 Here is nice ebook (a 74-page PDF file) about
Python scripting
for
Blender 2.5x
.
With the arrival of the Blender 2.5x versions of Blender, Python scripting is
taken to a new level. Whereas the Python API up to Blender 2.49 was quite
incomplete and ad hoc, the API in Blender 2.5x promises to allow for python
access to all Blender features, in a complete and systematic way. However, the learning curve for this amazing tool can be quite steep. The purpose of these notes is to simplify the learning process, by providing example scripts that illustrate various aspects of Python scripting in Blender.
You can download it here:
Webmasters: hotlinking is not allowed, please use the post url as download link.
[download#173#image]
Left-click to download (right-click disabled)