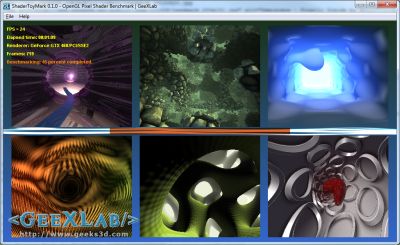 ---
*** UPDATE (2010.12.10) ***
ShaderToyMark 0.2.0 is available with better multi-GPU support.
---
Here a small toy for the weekend: ShaderToyMark. ShaderToyMark is an OpenGL benchmark, developed with GeeXLab, and focused on pixel shaders only. Why ShaderToyMark? Simply because I recently played with the pixel shaders available with Shader Toy, a great WebGL tool for testing GLSL shaders. And I said to myself: that would be nice to see several of these shaders running at the same time in the same 3D window… ShaderToyMark was born.
The contributors of Shader Toy are all famous demomakers and their shaders are real gems. It's just amazing to see what can clever people do with some sin/cos and other math tricks. ShaderToyMark can be seen as a modest tribute to their fantastic and sometime unreal work.
---

ShaderToyMark 0.1.0:
[ DOWNLOAD ]
Left-click to download (right-click disabled)

---
To launch ShaderToyMark, just start ShaderToyMark.exe 😉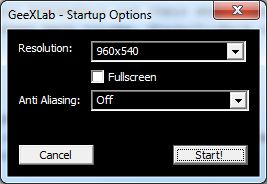 Select the resolution and start! Then press on the SPACE key to start the benchmark. It lasts 60 seconds. At the end, you should have a screen like this one: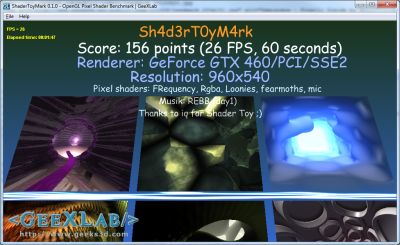 Watch out: some pixel shaders are very GPU voracious (especially iq's Leizex) so don't expect to have smooth running on middle and low entry cards…
Here are some scores:
960×540 windowed – 60 seconds
263 points (43 FPS) – GeForce GTX 480 (R258.96)


189 points (31 FPS) – ATI Radeon HD 5870 (Cat 10.8)


156 points (26 FPS) – MSI N460GTX Cyclone (R258.96)


104 points (17 FPS) – MSI R5770 Hawk (Cat 10.8)


46 points (7 FPS) – GeForce 9800 GTX


33 points (5 FPS) – GeForce GTX 260 (R258.96)


1920×1080 fullscreen – 60 seconds
181 points (30 FPS) – GeForce GTX 480 2-way SLI (R258.96)


91 points (15 FPS) – GeForce GTX 480 (R258.96)


60 points (10 FPS) – ATI Radeon HD 5870 (Cat 10.8)


55 points (9 FPS) – MSI N460GTX Cyclone (R258.96)


33 points (5 FPS) – MSI R5770 Hawk (Cat 10.8)


11 points (1 FPS) – MSI GeForce GTX 260 (R258.96)


Pixel Shaders CREDITS