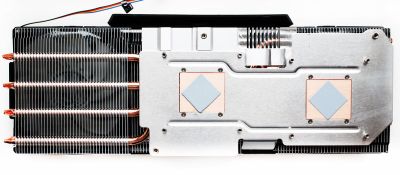 The guys at
X-bit labs
have tested the
Accelero XTREME 5970
, the new VGA cooler from
Arctic Cooling
, the Switzerland-based VGA cooler maker.
This new VGA cooler for Radeon HD 5970 fixes a cooling issue noticed on reference HD 5970 cooler:
The cooling system of the dual-processor ATI Radeon HD 5970 has the same problems, being only quiet in 2D applications but loud and not very effective in 3D ones. Moreover, it is designed in such a way that the air flow cools one GPU first and then, having heated up, moves to the other GPU, the difference between the temperatures of the two graphics cores amounting to 10° and more as the consequence. The problem of cooling is less urgent for an ordinary user who runs his graphics card at its default frequencies but this difference in temperatures may prevent an overclocker from accelerating his dual-processor HD 5970. The Switzerland-based Arctic Cooling has addressed the issue by releasing a new cooler called Accelero XTREME 5970.
The Accelero XTREME 5970 has been tested with FurMark and according to X-bit labs,
it quietly cools both GPUs very well:

But due to a too large VRM heatsink, the main heatsink of the Accelero XTREME 5970 presses against the tall VRM heatsink and bends the PCB.

This desing error causes some differences of temperature between both GPUs when the card is overclocked: