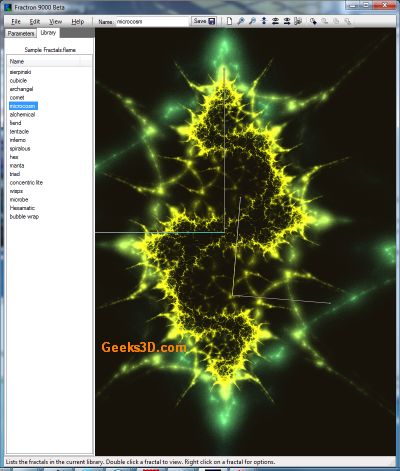 Microcosm sample
Fractron 9000
is a GPU accelerated fractal flame renderer. It can generate fractals using OpenCL or OpenGL+CPU. Fractals can be saved in PNG or JPG files. Fractron 9000 is based on the
fractal flame algorithm
:
The Fractal Flame algorithm is a member of the Iterated Function System (IFS) class of fractal algorithms. A two-dimensional IFS creates images by plotting the output of a chaotic attractor directly on the image plane. The fractal flame algorithm is distinguished by three innovations over text-book IFS: non-linear functions, log-density display, and structural coloring. In combination with standard techniques of anti-aliasing and motion blur the result is striking image variety and quality.
You can download Fractron 9000 v0.4 HERE.
I tested the tool on Win7 64-bit + R258.19 + GTX 480. Works fine!


Manta sample

Bubble wrap sample