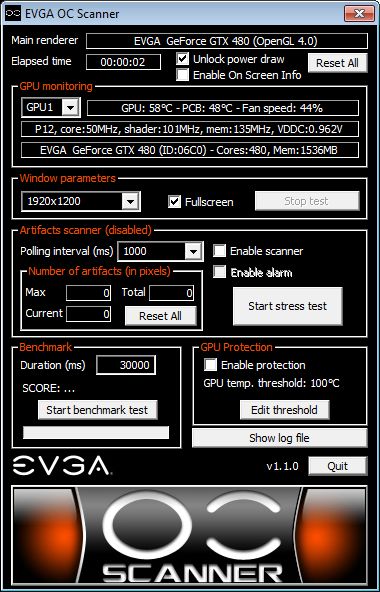 The new version of EVGA's stress test tool and
actifact scanner
is out.
EVGA OC Scanner
1.1.0 has been updated with the same GPU monitoring code than
GPU Shark
. A power draw control feature has been added (see
this post
to know why). An On Screen Information (OSI) option has been added in order to have the essential information displayed in the 3D window. But currently, OSI is not compatible with the artifact scanner (what a shame!). I'll remove this incompatibility in the next version.
OC Scanner works with an EVGA GTX 400 series card only.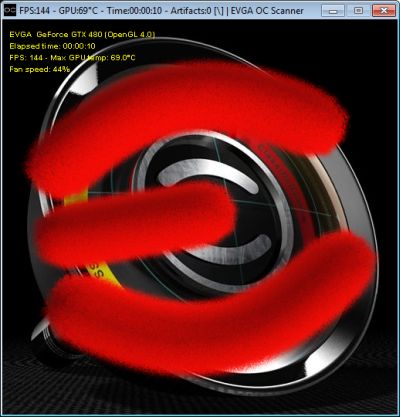 Full changelog:
New: added support for new EVGA GTX 400 Series.
New: added a customizable delay to control the power draw. By default this delay=0. You can change it with + and – keys. Delay is in milli-seconds.
New: added the fan speed in GPU monitoring zone.
New: added the display of the current PState value (P0, P12, etc.) in GPU monitoring zone.
New: added the display of OpenGL version in the main renderer zone.
New: added an option to enable On Screen Information.
New: added a button to display the current content of the log file.
Change: new and simpler scoring formula.
Change: updated the GPU monitoring code.
Change: GPU information zone renamed in GPU monitoring.
Change: removed VRM and memory temperature monitoring because they are not available.
Bugfix: resolution 1920×1080 was not restored.
OC Scanner support forum can be found HERE.