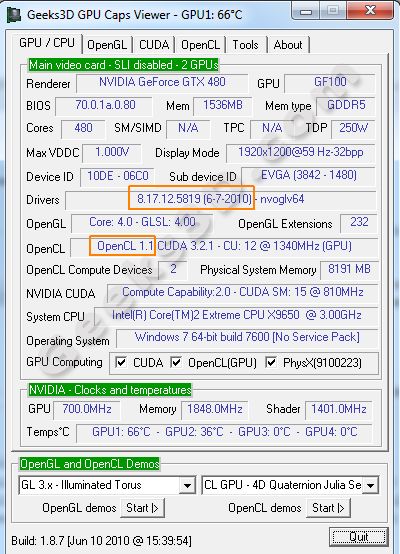 OpenCL 1.1 – R258.19 + GTX 480 + GPU Caps Viewer
NVIDIA has published a pre-release
R258.19
display driver and a new
OpenCL SDK
for GPU Computing registered developers.
R258.19 comes with CUDA 3.2.1 (the last R257.21 works with CUDA 3.1.1).
I just downloaded the new R258.19 driver (you need an account to download it) to see how GPU Caps Viewer works with. And a serious update of GPU Caps is required because only the PostFX and Particles OpenCL demos work with the new driver R258.19. I'm going to tackle this update asap!
The new GPU computing SDK (version 1.1…) comes with 34 OpenCL samples including GL and D3D interop exemples and even a multi-GPU demo. Great!


OpenCL 1.1 – Direct3D 10 interop
Same thing than for the drivers, you need an account to download the SDK.