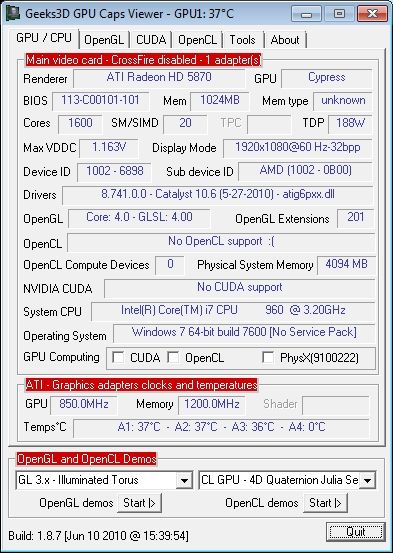 WHQL
-certified versions of
Catalyst 10.6
display drivers are available. You can download Catalyst 10.6
HERE
and read the relase notes
HERE
.
For OpenGL fanatics, the complete list of OpenGL extensions is available HERE.
Here are the new features of Cat 10.6:
GPU acceleration of H.264 video content using Adobe® Flash Player 10.1
Video playback: video de-blocking support and mosquito noise reduction on HD 5000 series
Official support for OpenGL 4.0 and OpenGL 3.3
And from the release notes: Known Issues Under All Windows Operating Systems:
OpenCL 1.0 conformance tests have not been run with this version of the ATI Catalyst Driver Suite in conjunction with the ATI Stream SDK v2.1. If you require an OpenCL 1.0 conformant driver, we recommend that you install the ATI Catalyst 10.5 Driver Suite.