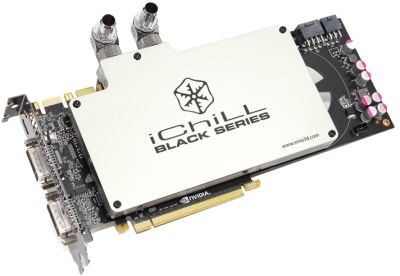 Inno3D
's new
GeForce GTX 480
is equipped with a water cooling block designed by
Bitspower
.
This GTX 480 comes with an overclocked GPU (+20MHz then +40MHz for the shaders since both clocks are linked) and memory (+26MHz):
– GPU: GF100 @ 720MHz
– Shader cores: 480 @ 1440MHz
– Memory: 1536MB GDDR5 @ 950MHz (or 3800MHz effective)
See HERE for the specs of the reference GTX 480.
The question: what are the performances of this water block when the GPU is highly stressed ?
Guru3D brings us the the answer with FurMark:
– idle mode: 31°C
– stress mode with FurMark (during 30 min): 57°C
57°C is around 40°C in less since with the stock VGA cooler, the same GPU reaches 95°C when it's tortured by our furry donut 😀
We have to note that the GPU temperature with the water block can vary according to the liquid cooling.
Here is the temperatue monitoring of MSI Afterburner: