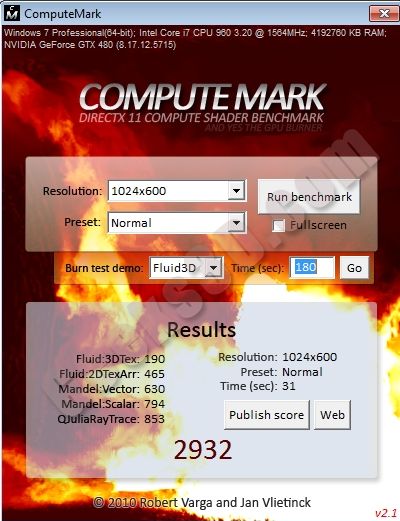 ComputeMark 2.1 – GTX 480 – 1024×600 – normal mode

ComputeMark 2.1 – Julia4D
The new version of
ComputeMark
is available. ComputeMark is a GPU computing benchmark based on Microsoft
DirectX 11 DirectCompute
technology. This new version brings new DirectCompute-based demos and 3 presets (normal, complex and extreme).
You can download the latest version here:
[download#132#image]
Okaaayyy, let's do a quick test…
Testbed:
– CPU: Core i7 960 (default clocks)
– RAM: 4GB DDR3 corsair dominator 1600MHz
– Motherboard: GIGABYTE GA-X58A-UD5
– Win7 64-bit
– PSU: Antex TPQ 850W
– Display drivers: R257.15 (NVIDIA) and Catalyst 10.5 (ATI)
GeForce GTX 480
– 1024×600 windowed
Normal mode: 2932
Complex mode: 1693
Extreme mode: crash, crash and CRASH!
– 1920×1080 fullscreen
Normal mode: 1291
Extreme mode: re-crash…
I also tested with two GTX 480 in SLI but SLI mode is not supported (not in profiles)…
Radeon HD 5870
– 1024×600 windowed
Normal mode: 3229
Complex mode: 1855
Extreme mode: 307
– 1920×1080 fullscreen
Normal mode: 1549
Extreme mode: 238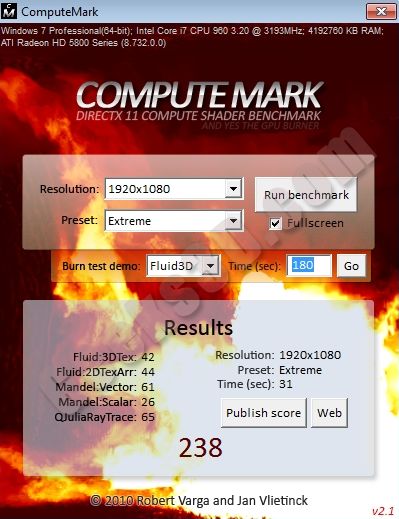 HD 5870 – 1920×1080 – extreme mode