The guys at VR-Zone have tested the first non-reference NVIDIA Fermi-based card: a GeForce GTX 470 from GALAXY.
This card comes with a factory-overclocked GPU:
– GPU core: 625MHz (ref=607MHz)
– GPU processors: 1250MHz
– Memory: 3348MHz (ref=3348MHz)
And according to their tests with FurMark 1.8.2, the GPU temperature does not exceed 88°C in Xtrem Burning Mode with 2560×1600 res.
While there is no breakthrough in cooling performance, the GALAXY cooling solution is able to keep temperatures under control without becoming too noisy.

Fan noise becomes somewhat audible only if you decide to go close to the card on load. On an open-air setup, if you're seated about an arm's length away, the fan would definitely not bother you at all. That said, you would not be able to hear the card when it is installed in a case.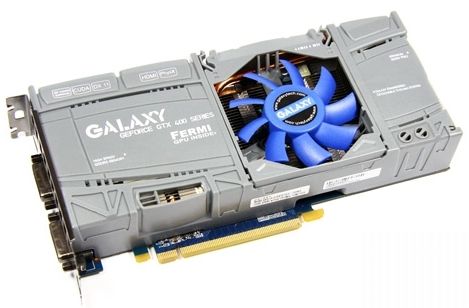 More pictures
HERE
This card features a detachable cooling system: