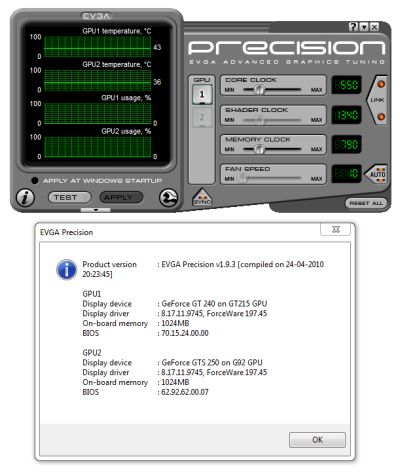 EVGA has released a new version of Precision, the overclocking
utility for GeForce graphics cards. EVGA Precision allows a fine tuning of the graphics card GPU core / shader and memory clocks.
To download EVGA Precision, you have to be a member of EVGA forums.
The thread about version 1.9.3 in EVGA forums is HERE.
This new version of Precision comes with a new OSD server in version 3.70. The OSD server (OSD = On Screen Display) allows to display various information (clocks, temperatures…) directly in the 3D applications.
EVGA Precision is a customized version of RivaTuner and like MSI Afterburner, EVGA Precision has a button (TEST button) that allows to launch a stress test tool. And the stress test tool is EVGA OC Scanner…