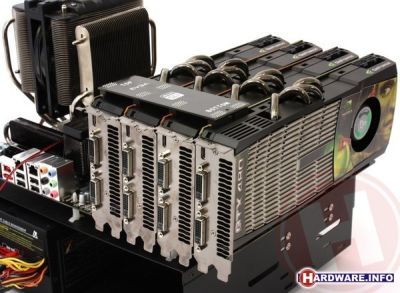 4-way SLI GeForce GTX 480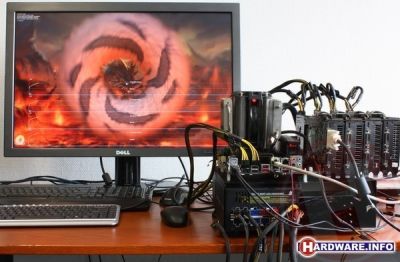 4-way SLI GeForce GTX 480 running FurMark
The guys at Hardware.Info have tested a
4-way SLI
of
GeForce GTX 480
… and since they are fearless, they ran
FurMark
on this crazy system.
The 1500W PSU (SilverStone Strider) was just enough to feed the complete system: the total power consumption of the complete rig running FurMark reached 1480 Watts. This is just insane!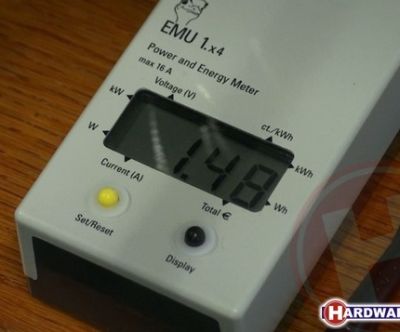 4-way SLI GeForce GTX 480 – power consumption in KW: 1.48 = 1480W
This video shows the GPU temperatures, power consumption and the noise level: more than 76 dB. Okay, they stuck the db-meter on the cards, but honestly, it's a little bit loud…


[youtube 7V13ZGIZgYY]

And acccording to the testers:
But again showed that only FurMark really can pull all the stops. The temperature went after a few minutes direction 110 degrees. The fans were running according to GPU-Z and 90% from two meters away you could feel the warm air just fine. With this benchmark we found why nVidia recommends, when triple-or quad-SLI GeForce GTX 480 setups by using water cooling. After about ten minutes the temperature rose so far that the system spontaneously stopped it …
In some tests like Unigine Heaven (DX11 – 2650×1600) the 4-way SLI GTX 480 dominates the race with a small gain only while on other tests like DiRT 2 (DX11 – 2650×1600) the 4-way SLI is behind the 3-way SLI GTX 480: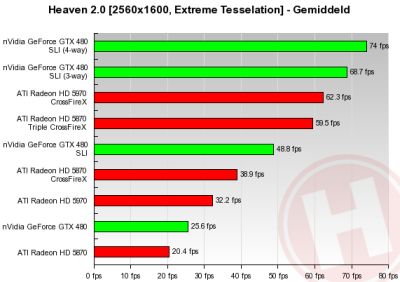 4-way SLI GeForce GTX 480 – Unigine Heaven 2.0 test (Direct3D 11)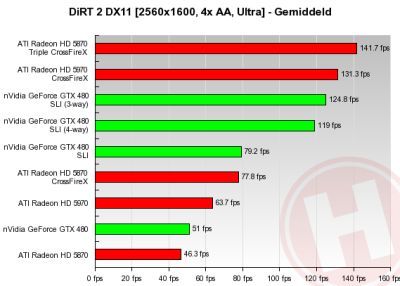 4-way SLI GeForce GTX 480 – DiRT 2 test (Direct3D 11)
And from Engadget:
You could argue the system was CPU-limited, but Hardware.info used the fastest consumer chip available — so it seems there's no place in today's market for GTX 480 4-way SLI. Except, of course, for droolworthy snapshots like the above.