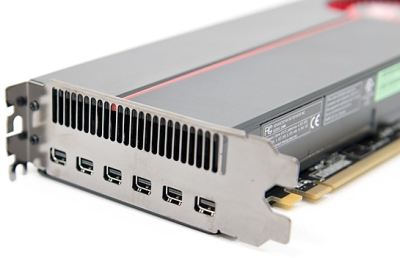 The Radeon HD 5870 Eyefinity 6 Edition is a Radeon HD 5870 with 6 mini DisplayPort connectors. This card should be available for around $480US.
Radeon HD 5870 Eyefinity 6 Edition can support up to six 2560×1600 monitors in a 3 x 2 arrangement: 7680×3600.

The clocks (core: 850MHz and memory: 1200MHz) are the same than a regular HD 5870 but the HD 5870 Eyefinity 6 comes with 2GB of GDDR5 (instead if 1GB) memory. This extra amount of memory increases the TDP of the card: 228W (idle: 34W) instead of 188W for the standard HD 5870. Then the HD 5870 Eyfinity 6 has a 6-pin + 8-pin power connectors: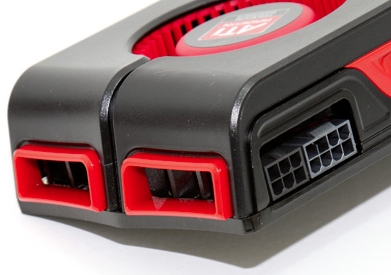 Display setup with Eyfinity 6

Crosshair problem in FPS games from AnandTech:
Eyefinity 6 was just not made for FPSes. The ideal setup for an FPS would actually be a 5×1 portrait mode, which is currently not supported in AMD's drivers. AMD is well aware of the limitation and is working on enabling 5×1 at some point in the future.
To reduce the distortion caused by monitors bezels, AMD provides bezel correction support in Catalyst 10.3

Reviews