[youtube xfQOU3T0O3Q]

Oh poor GTX 480… Promised, I will release a FurLessMark GTX 480 Edition 😀
But I understand why the cooler is so loud: with a GPU temperature that touches the 100°C (some tests show 96°C and others, like in the graph above, show more than 100°C) it's a tough job to cool a hot like hell GPU without noise…
Damien (from Hardware.fr) has done a test and under FurMark, the power consumption of the GTX 480 reaches 298 Watts:


Power consumption in Watts of the graphics card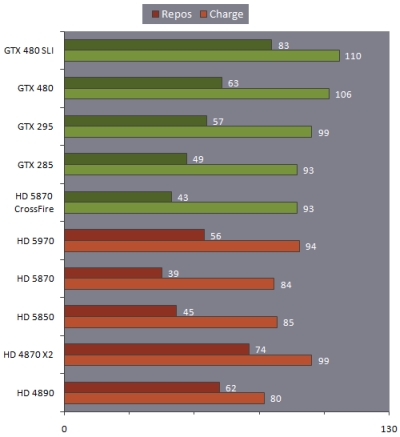 GPU temperature (Ambient temp: 26°C) – Darker bar is the temperature in idle mode.
Damien asked to NVIDIA why the power consumption is greater than the official 250W
TDP
. And NVIDIA has replied that the TDP is the max power consumption during a gaming session and is not the maximal power consumption of the card…
AnandTech, with a pair of GTX 480 in SLI, has measured 851W under FurMark for the total power consumption of the system (in idle, the total power consumption of the system is 260W). 851 – 260 = 591W for the GTX 480 SLI. Then around 295W for a single GTX 480.
For our load temperatures, we have gone ahead and added Crysis to our temperature testing so that we can see both the worst-case temperatures of FurMark and a more normal gameplay temperature.
…
This won't have any significant impact on the card, but if you're like us your eyes will pop out of your head at least once when you see a GTX 480 hitting 98C on FurMark.
…
Under FurMark our results change ever so slightly. The GTX 480 manages to get under the GTX 295, while the GTX 470 falls in the middle of the GTX 200 series pack. A special mention goes out to the GTX 480 SLI here, which at 851W under load is the greatest power draw we have ever seen for a pair of GPUs.
Guru3D has also a nice video showing a GTX 480 stressed by FurMark. Noise level: 45dB


[youtube ubNulVNCXT0]