AMD has announced its sponsorship of the DMM 2 engine for the PC platform.
This is a nice news for game development community. DMM or Digital Molecular Matter is a physics engine that takes into account the properties of materials to get a realistic deformation and fracture of objects. The following image shows a glass-made object that is broken: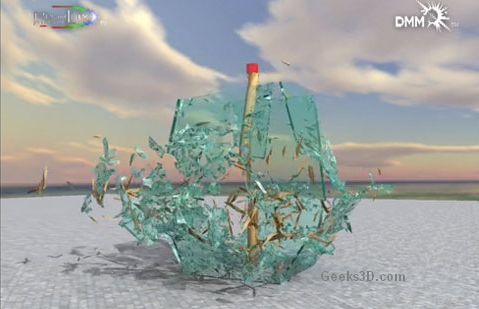 DMM is developed by
Pixelux
, a Switzerland based company (although they have development offices in L.A., USA). And if I'm not wrong they are not too far from Geeks3D dev-office 😉
What I hope is that the DMM SDK will be available like PhysX SDK: just ask for it and you get it!
Other thing that remains unclear is how the DMM SDK will be shipped: as a standalone SDK or already included in Bullet Physics?
In addition, AMD is announcing its sponsorship of FREE DMM2 for the PC platform. The Free PC version has no DMM license fee for development or production deployment and includes all the features of the premium version including GPU acceleration. Free PC DMM2 is expected to be made available shortly to interested developers.
If I can get a version of the DMM engine, you can be sure that GeeXLab will exploit it!
This news has another nice consequence: since all GPU physics will be done either by OpenCL or DirectCompute, we can expect from AMD to provide official OpenCL support in its drivers 😉