Dimastech bench table v2.5
A
bench table
, or
test bench
, is the ideal solution for anyone that needs frequent and fast access to internal PC components: overclockers, hardware review websites, IT professionals, PC shops and enthusiasts.
I particularly like this kind of case (if we can call that a case 😉 ) because I need to change graphics cards very very often. Here is for example my current dev machine: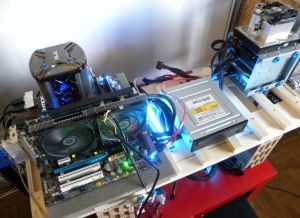 Not based on a real bench table structure but it's operational 😉
These last days I stumbled across some links about test benches and here is a small round-up.
My favorite test bench is this one from HighSpeed PC:


HSPC Top Deck Tech Station
techPowerUp has recently published a review about Dimastech's bench table v2.5. Dimastech is an italian company that prodives also cooling solutions.
This bench table is also cool and has the same kind of features (motherboard on the top for example) than HSPC's Top Deck Tech Station.

Dimastech bench table v2.5
Another test bench reviewed by techPowerUp is Cooler Master's Lab Test Bench:
LegitReviews has also a test bench in their lab: they use Dimastech Bench Table Hard V2:

This test bench is no longer available (ESAURITO in italian).
Lian Li proposes a very simple test bench: a removable motherboard tray:

Lian Li has also the T1 Pitstop spider chassis:
Tecnofront, a second italian based company, is the supplier of Hardwaredock bench table:
A test is available
HERE
.