VirtualBox 3.1.4 – GPU Caps Viewer 1.8.4 test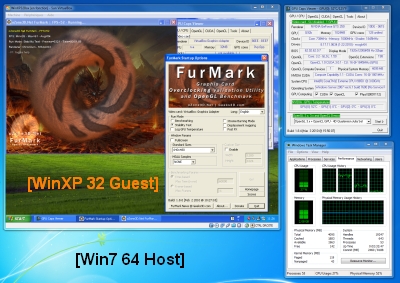 VirtualBox 3.1.4 – FurMark 1.8.0 test
I quickly tested the latest release of VirtualBox (the version 3.1.4) to see how this virtual machine works with some of my graphics cards tools.
So I created a WinXP SP2 32-bit guest (the virtual machine is called the guest) while the host (my real physical computer) is under Windows 7 64-bit. The host graphics card is a GeForce GTS 250 with ForceWare 196.34. And to take advantage of the 3D acceleration in the guest, I also installed the Guest Additions. See my first test of VirtualBox 3.0 for more information and theory about VirtualBox.
And I was really suprised to see that now (compared to my first test), the latest versions of GPU Caps Viewer and FurMark work fine with VirtualBox 3.1.4. Great!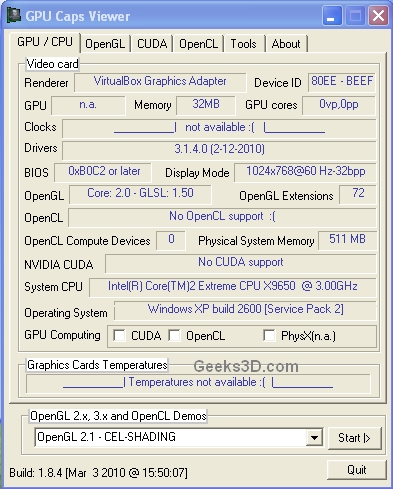 The graphics renderer called Chromium exposed now 72 OpenGL extensions (all GL_CR_xxxxxx are VirtualBox OpenGL extensions):
GL_EXT_texture_compression_s3tc
GL_EXT_draw_range_elements
GL_EXT_framebuffer_object
GL_EXT_compiled_vertex_array
GL_ARB_depth_texture
GL_ARB_fragment_program
GL_ARB_multisample
GL_ARB_multitexture
GL_ARB_occlusion_query
GL_ARB_point_parameters
GL_ARB_point_sprite
GL_ARB_shadow
GL_ARB_texture_border_clamp
GL_ARB_texture_compression
GL_ARB_texture_cube_map
GL_ARB_texture_env_add
GL_ARB_texture_env_combine
GL_EXT_texture_env_combine
GL_ARB_texture_env_crossbar
GL_ARB_texture_env_dot3
GL_EXT_texture_env_dot3
GL_ARB_texture_mirrored_repeat
GL_ARB_texture_non_power_of_two
GL_ARB_transpose_matrix
GL_ARB_vertex_buffer_object
GL_ARB_vertex_program
GL_ARB_window_pos
GL_EXT_blend_color
GL_EXT_blend_minmax
GL_EXT_blend_func_separate
GL_EXT_blend_subtract
GL_EXT_texture_env_add
GL_EXT_fog_coord
GL_EXT_multi_draw_arrays
GL_EXT_secondary_color
GL_EXT_shadow_funcs
GL_EXT_stencil_wrap
GL_EXT_texture_cube_map
GL_EXT_texture_edge_clamp
GL_EXT_texture_filter_anisotropic
GL_EXT_texture_lod_bias
GL_EXT_texture_object
GL_EXT_texture3D
GL_IBM_rasterpos_clip
GL_NV_fog_distance
GL_NV_fragment_program
GL_NV_register_combiners
GL_NV_register_combiners2
GL_NV_texgen_reflection
GL_NV_texture_rectangle
GL_NV_vertex_program
GL_NV_vertex_program1_1
GL_NV_vertex_program2
GL_SGIS_generate_mipmap
GL_ARB_shading_language_100
GL_ARB_shader_objects
GL_ARB_vertex_shader
GL_ARB_fragment_shader
GL_CR_state_parameter
GL_CR_cursor_position
GL_CR_bounding_box
GL_CR_print_string
GL_CR_tilesort_info
GL_CR_synchronization
GL_CR_head_spu_name
GL_CR_performance_info
GL_CR_window_size
GL_CR_tile_info
GL_CR_saveframe
GL_CR_readback_barrier_size
GL_CR_server_id_sharing
GL_CR_server_matrix