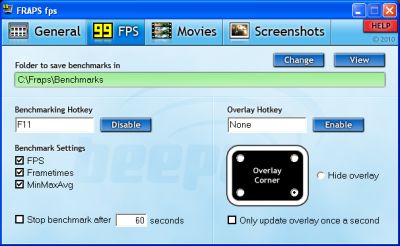 The new version of FRAPS is out. FRAPS is a very popular tool used for screenshot, video and FPS capture for OpenGL and Direct3D applications.
This new version is essentially a bugfix release:
– Fixed STALKER: Call of Pripyat not loading with Fraps running
– Fixed slow recording speeds for some users in Battlefield: Bad Company 2
– Fixed Guild Wars crashing when moving between zones
– Fixed videos being recorded at double width on some nvidia configurations
– Fixed colors being inverted in video captured from some DX10 games
– Fixed multiple FRAPS32.DLL crashes
You can download FRAPS 3.1.2 HERE.