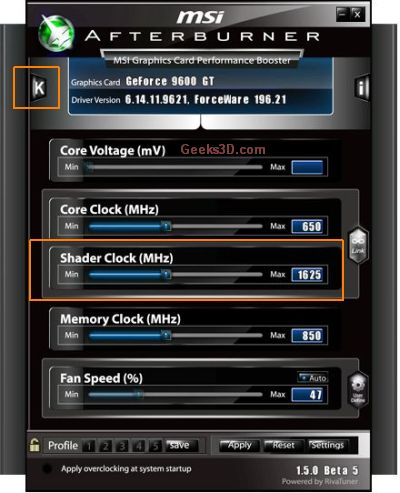 MSI has just published the new beta of MSI Afterburner 1.5.0. One interesting thing in this update is NVIDIA's R196.21 workaround that allows shader overclocking:
Added workaround for overclocking bug of ForceWare 196.21. Please take a note that the workaround is applied only to 196.00 – 196.21 driver versions range in order to ensure compatibility with future fixed NVIDIA drivers. That is wny you may need to force the workaround via ClockDomainIdWorkaround configuration file entry if NVIDIA release a few more versions affected by this problem prior to fixing it
Expreview has tested other overclocking tools but since most of them are based on an old RivaTuner engine, they don't expose shader clocks.
MSI Afterburner 1.5.0 BETA 5 can be downloaded HERE
This beta 5 adds a new K button. When enabled (like in the screenshot 😉 ), this button allows to launch MSI's new furry stress test utility…