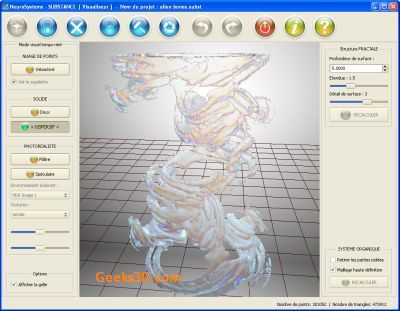 SUBSTANCE
, made by a french team, is an
OpenGL
-based application for producing photorealistic evolutionary art. SUBSTANCE uses Qt (windows management) and Cg for real time shaders.
SUBSTANCE exploits the process of evolution to create an artwork which continually changes according to a genetic evolutionary algorithm. Basically, the artist is able to control the development of a piece of work through some form of "selection", in a manner analogous to natural selection. In a system such as SUBSTANCE, one or more parent virtual sculptures are mutated and/or crossbred to produce a number of "children", which are then selected again. These results are then used to produce the next "generation". Evolutionary systems such as SUBSTANCE allow the artist to generate complex unique unpredictable computer artworks in a very visual way.
I quiclky played with free viewer you can download HERE.
I don't know why but my Radeon HD 5770 has not been able to do global illumination rendering (in the system requirements, ATI Radeon X1000, HD2000, HD3000 and HD4000 series GPUs are supported, the HD 5000 is too recent?)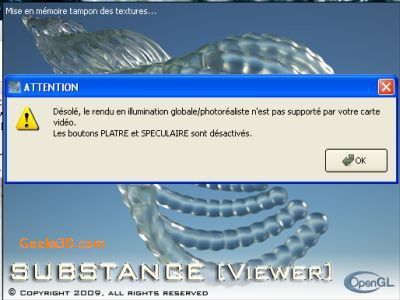 Anyway, here is a cloud of points: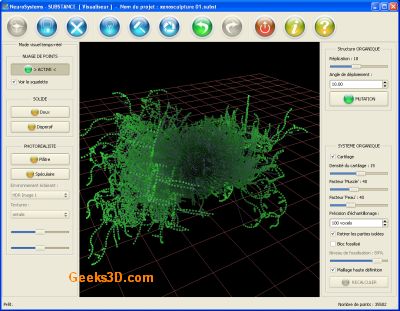 and here is the sold version after faces reconstruction: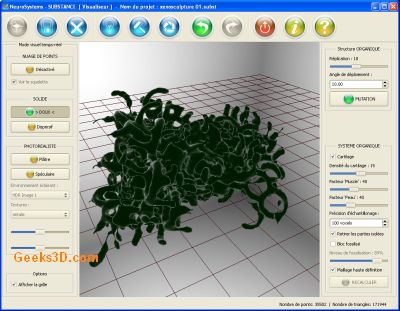 Here is an image from SUBSTANCE gallery: