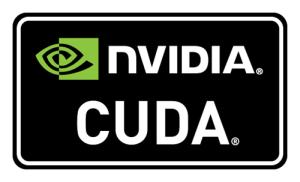 NVIDIA has just released the new version of the
CUDA SDK
. For more information about the new things brought by
CUDA 2.3 SDK
, please jump
HERE
.
NVIDIA has worked on the multi-GPUs side and now each GPU in an SLI group is now enumerated individually, so compute applications can now take advantage of multi-GPU performance even when SLI is enabled for graphics.
You have to install NVIDIA display drivers 190.38 to enjoy CUDA 2.3.
CUDA SDK Downloads:
CUDA Toolkit Downloads:
The toolkit contains all you need to compile CUDA applications (headers, libs, docs) and is installed by default in C:\CUDA .
The SDK contains code samples browser (binaries + source codes) and is installed by default in C:\Documents and Settings\All Users\Application Data\NVIDIA Corporation\NVIDIA GPU Computing SDK.
Just in passing, the names toolkit and sdk are somewhat reversed. For me, a SDK (software development kit) contains the necessary files to create an application: C headers and libs…
Related links: