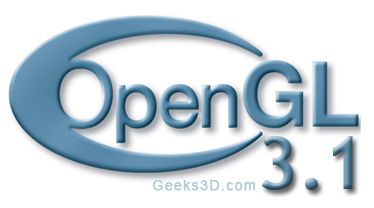 NVIDIA has just released a new set of graphics drivers for GeForce 8 series or higher. This new
ForceWare 182.47
brings the support of
OpenGL 3.1
and
GLSL 1.40
.
Downloads:
The specifications of OpenGL version 3.1 have been released on March 24, 2009. The major change in OpenGL 3.1 is all deprecated functions in OpenGL 3.0 are no longer supported.. Features removed from OpenGL 3.0 have been moved into the new extension GL_ARB_compatibility. This extension is not mandatory and NVIDIA, ATI, S3 can decide to add or not add it in their drivers.
New Features of OpenGL 3.1:
Support for OpenGL Shading Language 1.30 and 1.40.
Instanced rendering with a per-instance counter accessible to vertex shaders (GL ARB draw instanced).
Data copying between buffer objects (GL EXT copy buffer).
Primitive restart (NV primitive restart). Because client enable/disable no longer exists in OpenGL 3.1, the PRIMITIVE RESTART
state has become server state, unlike the NV extension where it is client state. As a result, the numeric values assigned to
PRIMITIVE RESTART and PRIMITIVE RESTART INDEX differ from the NV versions of those tokens.
At least 16 texture image units must be accessible to vertex shaders, in addition to the 16 already guaranteed to be accessible to fragment shaders.
Texture buffer objects (GL ARB texture buffer object).
Rectangular textures (GL ARB texture rectangle).
Uniform buffer objects (GL ARB uniform buffer object).
SNORM (Signed Normalized) texture component formats.