Recent Posts
91
« Last post by JeGX on July 01, 2014, 08:28:02 PM »
92
« Last post by JeGX on July 01, 2014, 08:26:53 PM »
93
« Last post by Stefan on July 01, 2014, 04:22:20 PM »
94
« Last post by Stefan on July 01, 2014, 04:19:17 PM »
CUDA Application Support:
In order to run Mac OS X Applications that leverage the CUDA architecture of certain NVIDIA graphics cards, users will need to download and install the 6.0.46 driver for Mac located
here.
New in Release 334.01.02f02:
Graphics driver updated for Mac OS X Mavericks 10.9.4 (13E28)
Contains performance improvements and bug fixes for a wide range of applications.
Includes NVIDIA Driver Manager preference pane.
Release Notes Archive:
This driver update is for Mac Pro 5,1 (2010), Mac Pro 4,1 (2009) and Mac Pro 3,1 (2008) users only.
95
« Last post by blend4web on July 01, 2014, 08:57:44 AM »
Hi!
You may wish to consider the "mainstream"
Blender-to-WebGL solution called
Blend4Web
96
« Last post by JeGX on June 30, 2014, 09:36:29 AM »
Le rendu de l'attracteur de Lorenz ça vous dit? Alors allez visiter cette page:
http://www.geeks3d.com/3dfr/20140627/rendu-attracteur-de-lorenz-3d/
97
« Last post by JeGX on June 30, 2014, 09:32:31 AM »
Voilà un petit article sur un effet de déformation 2d bien connu: le twrirling ou swirling:
http://www.geeks3d.com/3dfr/20140627/effet-2d-le-twirl-ou-swirl-en-glsl/
Cet article est dispo sur un nouveau blog en français que je vais essayer de mettre à jour aussi souveant que possible.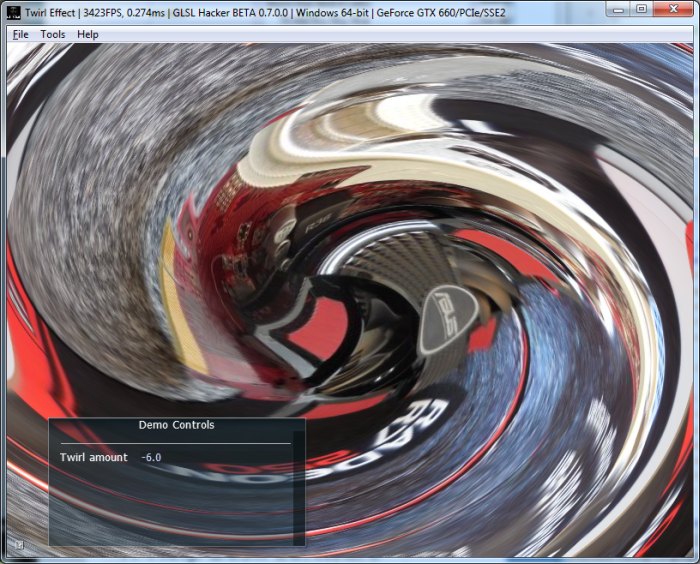 98
I think the error on Chrome is because it failed to allocate one of the textures used on one of the framebuffers.

I'll see if I can get a Nexus 4 for testing but it is going to be hard to make it work, perhaps saving some memory by disabling the shadow mapping or something like that...
99
« Last post by Stefan on June 25, 2014, 07:20:17 PM »
Android used is a Nexus 4 with 2 GB RAM
It's Qualcomm Adreno GPU supports ATC, not DXT
---
When Chrome is stuck, debug log prints in a endless loop
E/Adreno-ES20(11421): <check_framebuffer_attachment:789>: Invalid texture format! Returning error!
E/Adreno-ES20(11421): <check_framebuffer_object_status:1185>: Framebuffer color attachment incomplete. Returning GL_FRAMEBUFFER_INCOMPLETE_ATTACHMENT!
---
Mozilla Nightly indeed runs out of memory
06-25 20:02:58.129: E/GeckoConsole(12255): [JavaScript Warning: "Mutations-Ereignisse sollten nicht mehr verwendet werden. Verwenden Sie MutationObserver stattdessen." {file: "http://code.jquery.com/jquery-2.1.0.min.js" line: 3}]
06-25 20:03:12.074: W/Adreno-GSL(12255): <sharedmem_gpumem_alloc_id:1486>: sharedmem_gpumem_alloc: mmap failed errno 12 Out of memory
06-25 20:03:12.074: E/Adreno-GSL(12255): <gsl_memory_alloc_pure:2031>: GSL MEM ERROR: kgsl_sharedmem_alloc ioctl failed.
06-25 20:03:12.074: W/Adreno-GSL(12255): <sharedmem_gpumem_alloc_id:1486>: sharedmem_gpumem_alloc: mmap failed errno 12 Out of memory
06-25 20:03:12.074: E/Adreno-GSL(12255): <gsl_memory_alloc_pure:2031>: GSL MEM ERROR: kgsl_sharedmem_alloc ioctl failed.
06-25 20:03:12.074: W/Adreno-ES20(12255): <core_glTexImage2D:528>: GL_OUT_OF_MEMORY
06-25 20:03:12.074: E/GeckoConsole(12255): [JavaScript Warning: "Error: WebGL: texImage2D generated error OUT_OF_MEMORY" {file: "http://az614524.vo.msecnd.net/staticmax/gargantia_57fe6edfad8d18cf00cb5ad409582c0b.js" line: 4}]
06-25 20:03:12.134: E/Gecko(12255): mozalloc_abort: out of memory: 0x0000000000384000 bytes requested
06-25 20:03:13.235: W/AudioTrack(12255): releaseBuffer() track 0x8b53d830 name=s:184;n:1;f:2 disabled due to previous underrun, restarting
06-25 20:03:13.705: I/Adreno-EGL(1092): <qeglDrvAPI_eglInitialize:410>: EGL 1.4 QUALCOMM build: JHICKS_AU_LINUX_ANDROID_KK_3.5.04.04.02.003.347+PATCH[ES]_msm8974_KK_3.5__release_ENGG ()
06-25 20:03:13.705: I/Adreno-EGL(1092): OpenGL ES Shader Compiler Version: E031.24.00.15
06-25 20:03:13.705: I/Adreno-EGL(1092): Build Date: 06/20/14 Fri
06-25 20:03:13.705: I/Adreno-EGL(1092): Local Branch:
06-25 20:03:13.705: I/Adreno-EGL(1092): Remote Branch: quic/kk_3.5_1
06-25 20:03:13.705: I/Adreno-EGL(1092): Local Patches: 48703a88505c2d983ae417624cea1f9cf0ec32ff egl: Use relative path to load EGL libs
06-25 20:03:13.705: I/Adreno-EGL(1092): 9a9ab9019704bc48ec96a4ac35ea5a3ace17a3eb Fixes a pink icon artifact.
06-25 20:03:13.705: I/Adreno-EGL(1092): 34fdd52a869fec8c1e503c965a0ca124c38cae7f Revert "egl14: Use custom stride and he
06-25 20:03:13.705: E/cutils-trace(12420): Error opening trace file: No such file or directory (2)
06-25 20:03:13.725: W/Binder(1031): Caught a RuntimeException from the binder stub implementation.
06-25 20:03:13.966: I/ActivityManager(632): START u0 {act=org.mozilla.gecko.reportCrash flg=0x10000000 cmp=org.mozilla.fennec/org.mozilla.gecko.CrashReporter (has extras)} from pid 12420
06-25 20:03:14.286: I/GeckoCrashReporter(12439): moving /data/data/org.mozilla.fennec/files/mozilla/a3dxb2nr.default/minidumps/368b138e-c99a-a591-2a0c1b80-13023202.dmp to /data/data/org.mozilla.fennec/files/mozilla/Crash Reports/pending/368b138e-c99a-a591-2a0c1b80-13023202.dmp
06-25 20:03:14.306: I/GeckoCrashReporter(12439): moving /data/data/org.mozilla.fennec/files/mozilla/a3dxb2nr.default/minidumps/368b138e-c99a-a591-2a0c1b80-13023202.extra to /data/data/org.mozilla.fennec/files/mozilla/Crash Reports/pending/368b138e-c99a-a591-2a0c1b80-13023202.extra
06-25 20:03:14.486: I/Adreno-EGL(12439): <qeglDrvAPI_eglInitialize:410>: EGL 1.4 QUALCOMM build: JHICKS_AU_LINUX_ANDROID_KK_3.5.04.04.02.003.347+PATCH[ES]_msm8974_KK_3.5__release_ENGG ()
06-25 20:03:14.486: I/Adreno-EGL(12439): OpenGL ES Shader Compiler Version: E031.24.00.15
06-25 20:03:14.486: I/Adreno-EGL(12439): Build Date: 06/20/14 Fri
06-25 20:03:14.486: I/Adreno-EGL(12439): Local Branch:
06-25 20:03:14.486: I/Adreno-EGL(12439): Remote Branch: quic/kk_3.5_1
06-25 20:03:14.486: I/Adreno-EGL(12439): Local Patches: 48703a88505c2d983ae417624cea1f9cf0ec32ff egl: Use relative path to load EGL libs
06-25 20:03:14.486: I/Adreno-EGL(12439): 9a9ab9019704bc48ec96a4ac35ea5a3ace17a3eb Fixes a pink icon artifact.
06-25 20:03:14.486: I/Adreno-EGL(12439): 34fdd52a869fec8c1e503c965a0ca124c38cae7f Revert "egl14: Use custom stride and he
06-25 20:03:14.506: D/OpenGLRenderer(12439): Enabling debug mode 0
06-25 20:03:14.646: W/IInputConnectionWrapper(1092): showStatusIcon on inactive InputConnection
06-25 20:03:14.646: I/ActivityManager(632): Displayed org.mozilla.fennec/org.mozilla.gecko.CrashReporter: +583ms
06-25 20:03:25.548: W/ManagedEGLContext(5750): doTerminate failed: EGL count is 2 but managed count is 1
100
« Last post by JeGX on June 25, 2014, 02:26:45 PM »
- What: twirl effect shader
- Where: in the
host_api/PostFX/Twirl/
folder of the
code sample pack
- When: in few hours, during the next update/upload of the code sample pack.