Recent Posts
91
« Last post by JeGX on June 17, 2014, 09:56:01 PM »
Available on Mac OS X too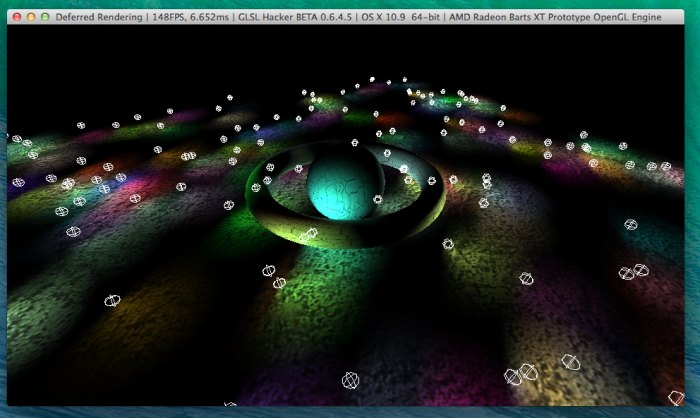 92
« Last post by Stefan on June 17, 2014, 07:45:29 PM »
FurryBall 4.7.1
for Maya, 3DS Max, standalone and network

Dear FurryBall users,

new version 4.7.1 with many new features and fixes is here.

The main new features we added are two new methods for HDRI map sampling, HDR image format support, new Displacement map behavior and merging FREE and REGULAR LICENSED version into

ONE

installation file.

Maya 2015

and 3DS

Max 2015

are also supported in 4.7

.

The older versions and Beta releases can be found on

our forum.

[/c]
Maxwell support has been added, but it's yet incompatible with GeForce R340 nvwgf2umx.dll
93
« Last post by Stefan on June 17, 2014, 07:41:03 PM »
You asked, we delivered: OTOY releases OctaneRender

™

2 with a dozen new features by community request
Available now with free plugin upgrades for a limited time, new version empowers artists to produce their best work in less time on workstations and over the cloud
LOS ANGELES, Calif. – June 9, 2014 –
Cloud graphics pioneer,
OTOY Inc.
, today announced the availability of
OctaneRender

™

2
, the latest version of the company's sophisticated real-time rendering software boasting more than a dozen new features designed to empower artists, designers, and engineers to create the most realistic renders possible in less time than ever before.
Works now with Maxwell
94
« Last post by Stefan on June 17, 2014, 06:08:55 PM »
GeForce 340.43 Beta Drivers Released
The GeForce 340.43 beta drivers are a recommended update for Battlefield: Hardline, GRID Autosport, and Plants vs. Zombies: Garden Warfare players.
Read more >
CUDA 6.5.1 adds support for compute capability sm_52
95
« Last post by Stefan on June 11, 2014, 04:09:19 PM »
Changes in HWiNFO32 & HWiNFO64
v4.40
- Released on: Jun-11-2014:
Enhanced sensor monitoring on several ASUS Z97 and H97 models.
Enhanced sensor monitoring on GIGABYTE Z97 models.
Fixed reporting of OS UEFI Boot.
Fixed support of AMD Oland/Mars/Sun/Jet GPUs.
Fixed reporting of DDR3 memory timings for some modules.
Added support of IRF IR3580.
Enhanced sensor monitoring on ASUS MAXIMUS VII series.
Enhanced sensor monitoring on ASRock Z97 and H97 series.
Enhanced sensor monitoring on ASRock Z87 and H97 ITX series.
Added option to hide Welcome screen and Detection progress.
Upcoming changes in the next release:
Added preliminary support of PCI Express 4.0.
96
« Last post by Stefan on June 11, 2014, 04:07:01 PM »
New DirectX 11 benchmark test available now
Hot on the heels of all the hardware announcements at Computex, our new 3DMark Sky Diver benchmark test is ready to download and use now.
Sky Diver is a new DirectX 11 benchmark test for gaming laptops and mid-range PCs. It's ideal for testing mainstream graphics cards, mobile GPUs, integrated graphics and other systems that cannot achieve double-digit frame rates in the more demanding Fire Strike test.
97
« Last post by Stefan on June 10, 2014, 06:44:38 PM »
98
« Last post by Stefan on June 10, 2014, 04:49:10 PM »
MSI Afterburner Version 3.0.1
Added core voltage control for reference design AMD RADEON R9 295X2 series graphics cards with NCP81022 voltage regulators
Fixed hardware database for reference design AMD RADEON HD 7990 and AMD RADEON HD 290X series graphic cards
Fixed GDI resource leak when tray icon monitoring mode is enabled
RivaTuner Statistics Server has been upgraded to version 6.1.2
99
« Last post by Stefan on June 10, 2014, 04:20:16 PM »
100
« Last post by Stefan on June 09, 2014, 03:27:33 PM »
FreeBSD Display Driver – x64
FreeBSD Display Driver – x86
Solaris Display Driver – x64/x86
Linux Display Driver - x86
Linux 32-bit ARM Display Driver
Linux x64 (AMD64/EM64T) Display Driver

Made various improvements and corrections to the information reported to GL applications via the KHR_debug and ARB_debug_output extensions.
Fixed a bug that caused GLX applications which simultaneously create drawables on multiple X servers to crash when swapping buffers.
Updated nvidia-settings to report all valid names for each target when querying target types, e.g. `nvidia-settings -q gpus`.
Added support for controlling the availability of Fast Approximate Antialiasing (FXAA) on a per-application basis via the new __GL_ALLOW_FXAA_USAGE environment variable and the corresponding GLAllowFXAAUsage application profile key. See the README for details.
Fixed a bug where indirect rendering could become corrupted on system configurations that disallow writing to executable memory.
Updated the nvidia-settings Makefiles to allow nvidia-settings to be dynamically linked against the host system's libjansson. This option can be enabled by setting the NV_USE_BUNDLED_LIBJANSSON Makefile variable to 0. Please note that nvidia-settings requires libjansson version 2.2 or later.
Added initial support for G-SYNC monitors. Additional details and system requirements can be found at:

http://www.geforce.c...chnology/g-sync
Fixed an X driver bug that caused gamma ramp updates of the green channel at depth 15, on some recent GPUs, to be ignored.