Recent Posts
11
« Last post by penmaii on January 13, 2015, 12:43:15 PM »
I think that happens very difficult.
12
« Last post by penmaii on January 13, 2015, 12:41:23 PM »
Then I read that it was very scary.
13
« Last post by JeGX on January 12, 2015, 07:57:17 PM »
Lua 5.3 main changes:
- integers (64-bit by default)
- official support for 32-bit numbers
- bitwise operators
- basic utf-8 support
- functions for packing and unpacking values
Links:
-
Lua 5.3 download
-
Lua 5.3 changelog
I'll try to update
GLSL Hacker
with this new version of Lua as soon as possible!
14
« Last post by JeGX on January 12, 2015, 05:17:42 PM »
This note gives a set of guidelines and recommendations for coding in C++ for the ATLAS experiment.

There are several reasons for maintaining and following a set of programming guidelines. First, by following some rules, one can avoid some common errors and pitfalls in C++ programming, and thus have more reliable code. But even more important: a computer program should not only tell the machine what to do, but it should also tell other people what you want the machine to do. (For much more elaboration on this idea, look up references on "literate programming," such as [1].) This is obviously important any time when you have many people working on a given piece of software, and such considerations would naturally lead to code that is easy to read and understand. Think of writing ATLAS code as another form of publication, and take the same care as you would writing up an analysis for colleagues.

Links:
-
ATLAS C++ coding guidelines
-
ATLAS Experiment
15
« Last post by JeGX on January 12, 2015, 02:02:28 PM »
Tungsten is a physically based renderer originally written for the yearly renderer competition at ETH. It simulates full light transport through arbitrary geometry based on unbiased integration of the rendering equation using path tracing.

Tungsten is written in C++11 and makes use of Intel's high-performance geometry intersection library embree. Tungsten takes full advantage of multicore systems and tries to offer good performance through frequent benchmarking and optimization. At least SSE3 support is required to run the renderer.

Links:
- Github:
https://github.com/tunabrain/tungsten
- Article:
http://noobody.org/tungsten.html
16
« Last post by nuninho1980 on January 11, 2015, 05:01:03 PM »
HD 5450 got crash because it's 4-5 years old. Therefore, you may get RMA.
If the warranty is expired then you may bake to fix HD 5450 "died" ---> but... FIRST must watch
tutorial
!
I have remembered that I can bake to fix 8800 GTS 640 in dec 2009.
17
« Last post by MKnance on January 09, 2015, 09:20:22 PM »
---------------------------------------------------------------------------------------------------------------------
CPU Z Sensor log the highest
GPU Core Clock MHZ 650.0 GPU Memory Clock MHZ 449.7 GPU Temperature Celcius 65.0 Fan Speed 30%
---------------------------------------------------------------------------------------------------------------------------
Furmark SCORE:127 points (2 FPS, 60000 ms)
Resolution: 1280x720 (FS) - AA:0 samples
Max GPU Temp: 66°C
FPS: min:2, max:4, avg:2 - OPTIONS: DynBkg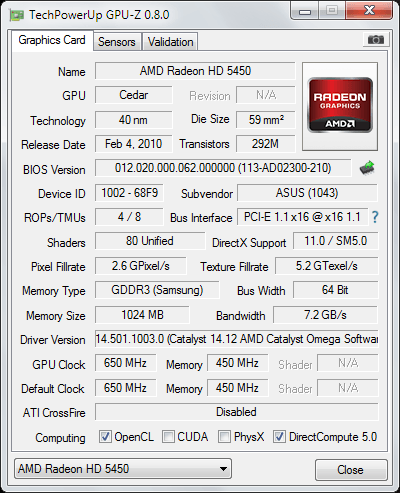 Can someone please help me I get random lockups now they have been getting worse its usually when im in the middle of something and sometimes the display driver will crash and then recover then lines will appear across the screen that taking in a screenshot aint noticeable the lines have become rarer to see but the lockups have become frequent and random i was playing dizzle just today i installed it then while in full screen and windowed version the display driver crashed about 5 or 7 times and then lines appeared across the screen then the computer locked up and i had to turn off by the power button please someone help me figure out whats causing this im tired of it and i just want to find the issue and figure out when i can fix it before it gets worse
18
« Last post by KShekofteh on January 07, 2015, 07:21:50 PM »
I am using a Geforce GT 740M graphic card on my laptop and a Geforce GTX 760.
I am to write a program with CUDA and NVAPI library in order to read the current frequency of the GPU and then changing it via code.
I could not find a suitable solution in using NVAPI.
Anyone can help me?

Thanks
19
« Last post by Einimazz on January 05, 2015, 10:31:01 AM »
Find out more from the point of it.
20
« Last post by Einimazz on January 05, 2015, 10:28:58 AM »
Can I have some more research.