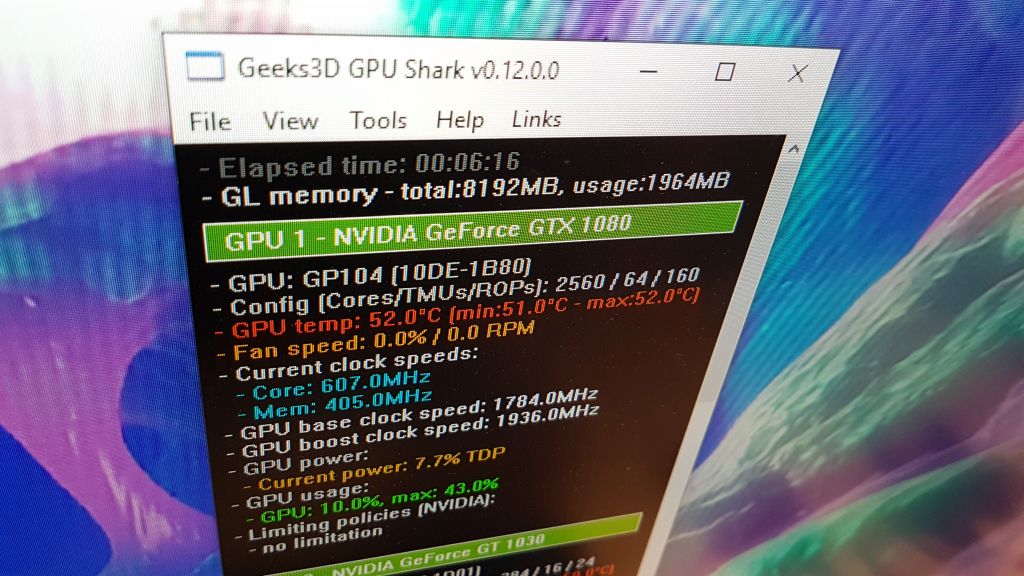 A new version of GPU Shark, a tiny GPU monitoring utility (Windows 32-bit) for NVIDIA GeForce and AMD Radeon graphics cards, is available.
1 – Download

GPUShark-0.12.0.0.zip hash codes:
- file size => 589513 bytes
- MD5 => 5996f9981f3c9960501fd647fc0b438b
- SHA1 => a863c23ee4ee403c16b7c3a31c3c18097d3953a1
- SHA256 => be9163e0aea572be24da53f9efa51a16486f0567463279c349c01bf6f646c406

For any feedback or bug-report, a thread is available HERE.
2 – Release Notes
GPU Shark 0.12.0 brings the support of NVIDIA GeForce RTX 2080 Ti, RTX 2080 and RTX 2070 GPUs. The monitoring of AMD Radeon graphics cards has been improved and fixed for some older Radeon GPUs like the HD 8570M: better reading of clock speeds, temperature and usage, more detailed BIOS and even the OpenGL memory usage has been fixed! All details are in the changelog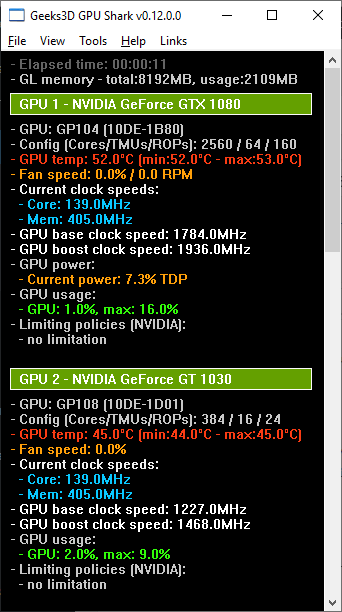 GPU Shark – GeForce GPUs – simplified view (default mode)
GPU Shark – Radeon GPU – simplified view (default mode)
3 – What is GPU Shark
GPU Shark is a simple, lightweight and free GPU monitoring tool for GeForce and Radeon based graphics cards and is available for Windows only. GPU Shark offers a global view of all your graphics cards in a single window.
4 – Changelog

Version 0.12.0.0 - 2018.11.06
+ added GPU codename and config (cores/TMUs/ROPs) in the simplified view.
+ added NVIDIA GeForce RTX 2080, RTX 2080 Ti and RTX 2070 support.
+ added NVIDIA GeForce MX 150 support.
+ added Intel UHD Graphics 620 (ID:0x5917). 
+ added GPU brand type (NVIDIA feature) in the report.
+ added min GPU power limit value for AMD Radeon GPUs.
! updated BIOS reading for AMD Radeon GPUs.
* fixed number of TMUs for Radeon RX Vega 56.
* fixed OpenGL memory stats (total / usage) on Radeon GPUs. 
- removed Submit to GPU DB menu entry.
! updated: ZoomGPU 1.22.0 (GPU monitoring library).

GPU Shark – detailed view

GPU Shark – detailed view