---
---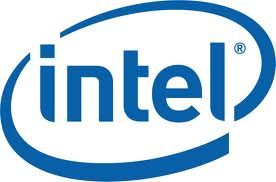 The latest Intel graphics driver v15.47.02.4815 for HD Graphics 500 / 600 comes with the support of the 8th Intel Core processors as well as the support of the following videogames:
– Forza Motorsport 7
– FIFA 18
– Project CARS 2
– Guild Wars 2: Path of Fire
– EVE: Valkyrie Warzone
This driver is the first to support the newly launched 8th Gen Intel® Core™ Desktop Processor Family.

Start your engines! Intel® is proud to announce that the world's most popular and widely played sports racing series is now playable† on Intel HD Graphics 620 or better for the first time ever, with the latest instalment: Forza Motorsport 7*†, through graphics memory allocation improvements.

From finish lines to free kicks, enjoy electrifying action at launch of the latest games, Forza Motorsport 7*†, Project CARS 2*, Guild Wars 2: Path of Fire*, FIFA 18*, EVE: Valkyrie Warzone*, Danganronpa V3: Killing Harmony*, and Hob* on processors with Intel® HD Graphics 620 or better.

Battle space demons as you explore beautiful lands on the latest titles like The Wild Eight* and Raiders of the Broken Planet – Alien Myths Campaign* on Intel® Iris® Pro Graphics.
You can download the Intel graphics driver v15.47.02.4815 from the following links: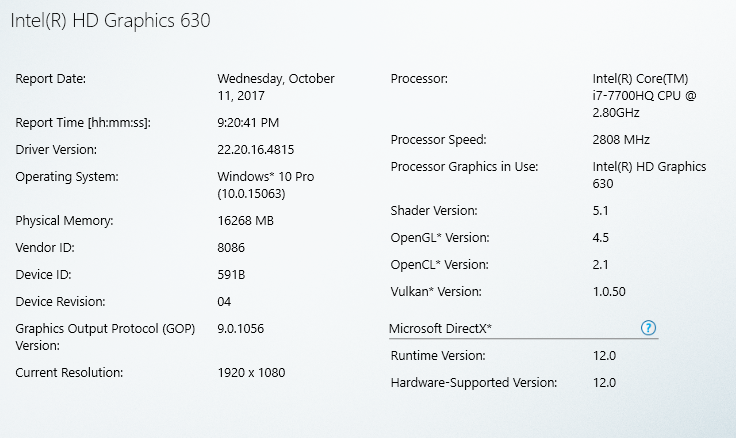 I installed v4815 on my notebook (GeForce GTX 1050 + Intel HD 630). Here is the OpenGL/Vulkan information.
OpenGL info

- GL_VENDOR: Intel
- GL_RENDERER: Intel(R) HD Graphics 630
- GL_VERSION: 4.5.0 - Build 22.20.16.4815
- OpenGL Extensions: 242 extensions (GL=221 and WGL=21)
  - GL_3DFX_texture_compression_FXT1
  - GL_AMD_depth_clamp_separate
  - GL_AMD_vertex_shader_layer
  - GL_AMD_vertex_shader_viewport_index
  - GL_ARB_ES2_compatibility
  - GL_ARB_ES3_1_compatibility
  - GL_ARB_ES3_compatibility
  - GL_ARB_arrays_of_arrays
  - GL_ARB_base_instance
  - GL_ARB_bindless_texture
  - GL_ARB_blend_func_extended
  - GL_ARB_buffer_storage
  - GL_ARB_cl_event
  - GL_ARB_clear_buffer_object
  - GL_ARB_clear_texture
  - GL_ARB_clip_control
  - GL_ARB_color_buffer_float
  - GL_ARB_compatibility
  - GL_ARB_compressed_texture_pixel_storage
  - GL_ARB_compute_shader
  - GL_ARB_conditional_render_inverted
  - GL_ARB_conservative_depth
  - GL_ARB_copy_buffer
  - GL_ARB_copy_image
  - GL_ARB_cull_distance
  - GL_ARB_debug_output
  - GL_ARB_depth_buffer_float
  - GL_ARB_depth_clamp
  - GL_ARB_depth_texture
  - GL_ARB_derivative_control
  - GL_ARB_direct_state_access
  - GL_ARB_draw_buffers
  - GL_ARB_draw_buffers_blend
  - GL_ARB_draw_elements_base_vertex
  - GL_ARB_draw_indirect
  - GL_ARB_draw_instanced
  - GL_ARB_enhanced_layouts
  - GL_ARB_explicit_attrib_location
  - GL_ARB_explicit_uniform_location
  - GL_ARB_fragment_coord_conventions
  - GL_ARB_fragment_layer_viewport
  - GL_ARB_fragment_program
  - GL_ARB_fragment_program_shadow
  - GL_ARB_fragment_shader
  - GL_ARB_fragment_shader_interlock
  - GL_ARB_framebuffer_no_attachments
  - GL_ARB_framebuffer_object
  - GL_ARB_framebuffer_sRGB
  - GL_ARB_geometry_shader4
  - GL_ARB_get_program_binary
  - GL_ARB_get_texture_sub_image
  - GL_ARB_gpu_shader5
  - GL_ARB_gpu_shader_fp64
  - GL_ARB_half_float_pixel
  - GL_ARB_half_float_vertex
  - GL_ARB_indirect_parameters
  - GL_ARB_instanced_arrays
  - GL_ARB_internalformat_query
  - GL_ARB_internalformat_query2
  - GL_ARB_invalidate_subdata
  - GL_ARB_map_buffer_alignment
  - GL_ARB_map_buffer_range
  - GL_ARB_multi_bind
  - GL_ARB_multi_draw_indirect
  - GL_ARB_multisample
  - GL_ARB_multitexture
  - GL_ARB_occlusion_query
  - GL_ARB_occlusion_query2
  - GL_ARB_pixel_buffer_object
  - GL_ARB_point_parameters
  - GL_ARB_point_sprite
  - GL_ARB_post_depth_coverage
  - GL_ARB_program_interface_query
  - GL_ARB_provoking_vertex
  - GL_ARB_query_buffer_object
  - GL_ARB_robust_buffer_access_behavior
  - GL_ARB_robustness
  - GL_ARB_robustness_isolation
  - GL_ARB_sample_shading
  - GL_ARB_sampler_objects
  - GL_ARB_seamless_cube_map
  - GL_ARB_seamless_cubemap_per_texture
  - GL_ARB_separate_shader_objects
  - GL_ARB_shader_atomic_counters
  - GL_ARB_shader_bit_encoding
  - GL_ARB_shader_draw_parameters
  - GL_ARB_shader_image_load_store
  - GL_ARB_shader_image_size
  - GL_ARB_shader_objects
  - GL_ARB_shader_precision
  - GL_ARB_shader_stencil_export
  - GL_ARB_shader_storage_buffer_object
  - GL_ARB_shader_subroutine
  - GL_ARB_shader_texture_image_samples
  - GL_ARB_shading_language_100
  - GL_ARB_shading_language_420pack
  - GL_ARB_shading_language_packing
  - GL_ARB_shadow
  - GL_ARB_stencil_texturing
  - GL_ARB_sync
  - GL_ARB_tessellation_shader
  - GL_ARB_texture_barrier
  - GL_ARB_texture_border_clamp
  - GL_ARB_texture_buffer_object
  - GL_ARB_texture_buffer_object_rgb32
  - GL_ARB_texture_buffer_range
  - GL_ARB_texture_compression
  - GL_ARB_texture_compression_bptc
  - GL_ARB_texture_compression_rgtc
  - GL_ARB_texture_cube_map
  - GL_ARB_texture_cube_map_array
  - GL_ARB_texture_env_add
  - GL_ARB_texture_env_combine
  - GL_ARB_texture_env_crossbar
  - GL_ARB_texture_env_dot3
  - GL_ARB_texture_float
  - GL_ARB_texture_gather
  - GL_ARB_texture_mirror_clamp_to_edge
  - GL_ARB_texture_mirrored_repeat
  - GL_ARB_texture_multisample
  - GL_ARB_texture_non_power_of_two
  - GL_ARB_texture_query_levels
  - GL_ARB_texture_query_lod
  - GL_ARB_texture_rectangle
  - GL_ARB_texture_rg
  - GL_ARB_texture_rgb10_a2ui
  - GL_ARB_texture_stencil8
  - GL_ARB_texture_storage
  - GL_ARB_texture_storage_multisample
  - GL_ARB_texture_swizzle
  - GL_ARB_texture_view
  - GL_ARB_timer_query
  - GL_ARB_transform_feedback2
  - GL_ARB_transform_feedback3
  - GL_ARB_transform_feedback_instanced
  - GL_ARB_transpose_matrix
  - GL_ARB_uniform_buffer_object
  - GL_ARB_vertex_array_bgra
  - GL_ARB_vertex_array_object
  - GL_ARB_vertex_attrib_64bit
  - GL_ARB_vertex_attrib_binding
  - GL_ARB_vertex_buffer_object
  - GL_ARB_vertex_program
  - GL_ARB_vertex_shader
  - GL_ARB_vertex_type_10f_11f_11f_rev
  - GL_ARB_vertex_type_2_10_10_10_rev
  - GL_ARB_viewport_array
  - GL_ARB_window_pos
  - GL_ATI_separate_stencil
  - GL_EXT_abgr
  - GL_EXT_bgra
  - GL_EXT_blend_color
  - GL_EXT_blend_equation_separate
  - GL_EXT_blend_func_separate
  - GL_EXT_blend_minmax
  - GL_EXT_blend_subtract
  - GL_EXT_clip_volume_hint
  - GL_EXT_compiled_vertex_array
  - GL_EXT_direct_state_access
  - GL_EXT_draw_buffers2
  - GL_EXT_draw_range_elements
  - GL_EXT_fog_coord
  - GL_EXT_framebuffer_blit
  - GL_EXT_framebuffer_multisample
  - GL_EXT_framebuffer_object
  - GL_EXT_geometry_shader4
  - GL_EXT_gpu_program_parameters
  - GL_EXT_gpu_shader4
  - GL_EXT_multi_draw_arrays
  - GL_EXT_packed_depth_stencil
  - GL_EXT_packed_float
  - GL_EXT_packed_pixels
  - GL_EXT_polygon_offset_clamp
  - GL_EXT_rescale_normal
  - GL_EXT_secondary_color
  - GL_EXT_separate_specular_color
  - GL_EXT_shader_framebuffer_fetch
  - GL_EXT_shader_integer_mix
  - GL_EXT_shadow_funcs
  - GL_EXT_stencil_two_side
  - GL_EXT_stencil_wrap
  - GL_EXT_texture3D
  - GL_EXT_texture_array
  - GL_EXT_texture_compression_s3tc
  - GL_EXT_texture_edge_clamp
  - GL_EXT_texture_env_add
  - GL_EXT_texture_env_combine
  - GL_EXT_texture_filter_anisotropic
  - GL_EXT_texture_integer
  - GL_EXT_texture_lod_bias
  - GL_EXT_texture_rectangle
  - GL_EXT_texture_sRGB
  - GL_EXT_texture_sRGB_decode
  - GL_EXT_texture_shared_exponent
  - GL_EXT_texture_snorm
  - GL_EXT_texture_storage
  - GL_EXT_texture_swizzle
  - GL_EXT_timer_query
  - GL_EXT_transform_feedback
  - GL_IBM_texture_mirrored_repeat
  - GL_INTEL_conservative_rasterization
  - GL_INTEL_fragment_shader_ordering
  - GL_INTEL_framebuffer_CMAA
  - GL_INTEL_map_texture
  - GL_INTEL_multi_rate_fragment_shader
  - GL_INTEL_performance_query
  - GL_KHR_blend_equation_advanced
  - GL_KHR_blend_equation_advanced_coherent
  - GL_KHR_context_flush_control
  - GL_KHR_debug
  - GL_KHR_texture_compression_astc_hdr
  - GL_KHR_texture_compression_astc_ldr
  - GL_NV_blend_square
  - GL_NV_conditional_render
  - GL_NV_primitive_restart
  - GL_NV_texgen_reflection
  - GL_SGIS_generate_mipmap
  - GL_SGIS_texture_edge_clamp
  - GL_SGIS_texture_lod
  - GL_SUN_multi_draw_arrays
  - GL_WIN_swap_hint
  - WGL_EXT_depth_float
  - WGL_ARB_buffer_region
  - WGL_ARB_extensions_string
  - WGL_ARB_make_current_read
  - WGL_ARB_pixel_format
  - WGL_ARB_pbuffer
  - WGL_EXT_extensions_string
  - WGL_EXT_swap_control
  - WGL_ARB_multisample
  - WGL_ARB_pixel_format_float
  - WGL_ARB_framebuffer_sRGB
  - WGL_ARB_create_context
  - WGL_ARB_create_context_profile
  - WGL_EXT_pixel_format_packed_float
  - WGL_EXT_create_context_es_profile
  - WGL_EXT_create_context_es2_profile
  - WGL_NV_DX_interop
  - WGL_INTEL_cl_sharing
  - WGL_NV_DX_interop2
  - WGL_ARB_create_context_robustness
  - WGL_ARB_context_flush_control

Vulkan info

===================================[ Vulkan Capabilities ]
- Instance extensions: 11
  - VK_EXT_debug_report (version: 8)
  - VK_EXT_display_surface_counter (version: 1)
  - VK_KHR_get_physical_device_properties2 (version: 1)
  - VK_KHR_get_surface_capabilities2 (version: 1)
  - VK_KHR_surface (version: 25)
  - VK_KHR_win32_surface (version: 6)
  - VK_KHX_device_group_creation (version: 1)
  - VK_KHR_external_fence_capabilities (version: 1)
  - VK_KHR_external_memory_capabilities (version: 1)
  - VK_KHR_external_semaphore_capabilities (version: 1)
  - VK_NV_external_memory_capabilities (version: 1)
- Instance layers: 2
  - VK_LAYER_NV_optimus (version: 1.0.56, impl: 1)
  - VK_LAYER_LUNARG_standard_validation (version: 1.0.61, impl: 1)
- Physical devices: 1
  - [Vulkan device 0]: Intel(R) HD Graphics 630 ------------------
    - API version: 1.0.50
    - vendorID: 32902
    - deviceID: 22811
    - driver version: 65538
  - memory heap count: 2
    - heap1: 3660MB
    - heap2: 3660MB
  - memory type count: 3
    - mem type 0 - heap index : 0 - property flag : 1
      > mem property: VK_MEMORY_PROPERTY_DEVICE_LOCAL_BIT
    - mem type 1 - heap index : 1 - property flag : 7
      > mem property: VK_MEMORY_PROPERTY_DEVICE_LOCAL_BIT
      > mem property: VK_MEMORY_PROPERTY_HOST_VISIBLE_BIT
      > mem property: VK_MEMORY_PROPERTY_HOST_COHERENT_BIT
    - mem type 2 - heap index : 1 - property flag : 15
      > mem property: VK_MEMORY_PROPERTY_DEVICE_LOCAL_BIT
      > mem property: VK_MEMORY_PROPERTY_HOST_VISIBLE_BIT
      > mem property: VK_MEMORY_PROPERTY_HOST_COHERENT_BIT
      > mem property: VK_MEMORY_PROPERTY_HOST_CACHED_BIT
  - extensions: 12
    - VK_KHR_swapchain (version: 68)
    - VK_KHR_external_memory (version: 1)
    - VK_KHR_external_memory_win32 (version: 1)
    - VK_KHR_external_semaphore (version: 1)
    - VK_KHR_external_semaphore_win32 (version: 1)
    - VK_KHR_external_fence (version: 1)
    - VK_KHR_external_fence_win32 (version: 1)
    - VK_KHR_sampler_mirror_clamp_to_edge (version: 1)
    - VK_KHR_maintenance1 (version: 1)
    - VK_KHR_shader_draw_parameters (version: 1)
    - VK_KHR_push_descriptor (version: 1)
    - VK_KHR_descriptor_update_template (version: 1)
  - device layers: 1
    - VK_LAYER_NV_optimus (version: 1.0.56, impl: 1)
  - device features:
    - robustBufferAccess: true
    - fullDrawIndexUint32: true
    - imageCubeArray: true
    - independentBlend: true
    - geometryShader: true
    - tessellationShader: true
    - sampleRateShading: true
    - dualSrcBlend: true
    - logicOp: true
    - multiDrawIndirect: true
    - drawIndirectFirstInstance: true
    - depthClamp: true
    - depthBiasClamp: true
    - fillModeNonSolid: true
    - depthBounds: false
    - wideLines: true
    - largePoints: true
    - alphaToOne: true
    - multiViewport: true
    - samplerAnisotropy: true
    - textureCompressionETC2: true
    - textureCompressionASTC_LDR: true
    - textureCompressionBC: true
    - occlusionQueryPrecise: true
    - pipelineStatisticsQuery: true
    - vertexPipelineStoresAndAtomics: true
    - fragmentStoresAndAtomics: true
    - shaderTessellationAndGeometryPointSize: true
    - shaderImageGatherExtended: true
    - shaderStorageImageExtendedFormats: true
    - shaderStorageImageMultisample: true
    - shaderStorageImageReadWithoutFormat: false
    - shaderStorageImageWriteWithoutFormat: true
    - shaderUniformBufferArrayDynamicIndexing: true
    - shaderSampledImageArrayDynamicIndexing: true
    - shaderStorageBufferArrayDynamicIndexing: true
    - shaderStorageImageArrayDynamicIndexing: true
    - shaderClipDistance: true
    - shaderCullDistance: true
    - shaderFloat64: true
    - shaderInt64: true
    - shaderInt16: true
    - shaderResourceResidency: true
    - shaderResourceMinLod: true
    - sparseBinding: true
    - sparseResidencyBuffer: true
    - sparseResidencyImage2D: true
    - sparseResidencyImage3D: true
    - sparseResidency2Samples: true
    - sparseResidency4Samples: true
    - sparseResidency8Samples: true
    - sparseResidency16Samples: true
    - sparseResidencyAliased: true
    - variableMultisampleRate: true
    - inheritedQueries: true
  - device limits
    - maxImageDimension1D: 16384
    - maxImageDimension2D: 16384
    - maxImageDimension3D: 2048
    - maxImageDimensionCube: 16384
    - maxImageArrayLayers: 2048
    - maxTexelBufferElements: 134217728
    - maxUniformBufferRange: 65536
    - maxStorageBufferRange: 134217728
    - maxPushConstantsSize: 256
    - maxMemoryAllocationCount: 1874157
    - maxSamplerAllocationCount: 4000
    - bufferImageGranularity: 1
    - sparseAddressSpaceSize: 17592186044416
    - maxBoundDescriptorSets: 8
    - maxPerStageDescriptorSamplers: 64
    - maxPerStageDescriptorUniformBuffers: 200
    - maxPerStageDescriptorSampledImages: 200
    - maxPerStageDescriptorStorageImages: 16
    - maxPerStageDescriptorInputAttachments: 8
    - maxPerStageResources: 200
    - maxDescriptorSetSamplers: 384
    - maxDescriptorSetUniformBuffers: 1200
    - maxDescriptorSetUniformBuffersDynamic: 16
    - maxDescriptorSetStorageBuffers: 1200
    - maxDescriptorSetStorageBuffersDynamic: 16
    - maxDescriptorSetSampledImages: 1200
    - maxDescriptorSetStorageImages: 96
    - maxDescriptorSetInputAttachments: 8
    - maxVertexInputAttributes: 16
    - maxVertexInputBindings: 16
    - maxVertexInputAttributeOffset: 2047
    - maxVertexInputBindingStride: 4095
    - maxVertexOutputComponents: 128
    - maxTessellationGenerationLevel: 64
    - maxTessellationPatchSize: 32
    - maxTessellationControlPerVertexInputComponents: 128
    - maxTessellationControlPerVertexOutputComponents: 128
    - maxTessellationControlPerPatchOutputComponents: 120
    - maxTessellationControlTotalOutputComponents: 4096
    - maxTessellationEvaluationInputComponents: 128
    - maxTessellationEvaluationOutputComponents: 128
    - maxGeometryShaderInvocations: 32
    - maxGeometryInputComponents: 128
    - maxGeometryOutputComponents: 128
    - maxGeometryOutputVertices: 256
    - maxGeometryTotalOutputComponents: 1024
    - maxFragmentInputComponents: 128
    - maxFragmentOutputAttachments: 8
    - maxFragmentDualSrcAttachments: 1
    - maxFragmentCombinedOutputResources: 16
    - maxComputeSharedMemorySize: 32768
    - maxComputeWorkGroupCount: [65536; 65536; 65536]
    - maxComputeWorkGroupInvocations: 1024
    - maxComputeWorkGroupSize: [1024; 1024; 64]
    - subPixelPrecisionBits: 8
    - subTexelPrecisionBits: 8
    - mipmapPrecisionBits: 8
    - maxDrawIndexedIndexValue: 4294967295
    - maxDrawIndirectCount: 4294967295
    - maxSamplerLodBias: 16.000000
    - maxSamplerAnisotropy: 16.000000
    - maxViewports: 16
    - maxViewportDimensions: [32768; 32768]
    - viewportBoundsRange: [-65536.000000 ; 65535.000000]
    - viewportSubPixelBits: 8
    - minMemoryMapAlignment: 64
    - minTexelBufferOffsetAlignment: 16
    - minUniformBufferOffsetAlignment: 32
    - minStorageBufferOffsetAlignment: 16
    - minTexelOffset: 4294967288
    - maxTexelOffset: 7
    - minTexelGatherOffset: 4294967264
    - maxTexelGatherOffset: 31
    - minInterpolationOffset: -0.500000
    - maxInterpolationOffset: 0.437500
    - subPixelInterpolationOffsetBits: 4
    - maxFramebufferWidth: 16384
    - maxFramebufferHeight: 16384
    - maxFramebufferLayers: 2048
    - framebufferColorSampleCounts: 31
    - framebufferDepthSampleCounts: 31
    - framebufferStencilSampleCounts: 31
    - framebufferNoAttachmentsSampleCounts: 31
    - maxColorAttachments: 8
    - sampledImageColorSampleCounts: 31
    - sampledImageIntegerSampleCounts: 31
    - sampledImageDepthSampleCounts: 31
    - sampledImageStencilSampleCounts: 31
    - storageImageSampleCounts: 31
    - maxSampleMaskWords: 1
    - timestampComputeAndGraphics: 1
    - timestampPeriod: 83.000000
    - maxClipDistances: 8
    - maxCullDistances: 8
    - maxCombinedClipAndCullDistances: 8
    - discreteQueuePriorities: 2
    - pointSizeRange: [0.125000 ; 255.875000]
    - lineWidthRange: [0.000000 ; 7.992188]
    - pointSizeGranularity: 0.125000
    - lineWidthGranularity: 0.007813
    - strictLines: 0
    - standardSampleLocations: 1
    - optimalBufferCopyOffsetAlignment: 16
    - optimalBufferCopyRowPitchAlignment: 16
    - nonCoherentAtomSize: 1