Here is a quick review of Logitech G810 Orion Spectrum gaming keyboard with Romer-G mechanical keys and RGB lighting.
1 – Overview
I found my new weapon to send nasty pixel shaders to my computer: Logitech's G810 Orion Spectrum. It's a mechanical keyboard with a simple but elegant design. The G810 has two main features: the Romer-G tech and the customizable RGB lighting.
This gaming keyboard is based on Romer-G mechanical switches which is Logitech's new (released in 2014 with the G910 keyboard!) key switch technology for gaming keyboards and replacement of previous Cherry MX tech. More information about Romer-G tech can be found HERE. Another interesting link about Romer-G and differences with Cherry MX is available HERE.
The G810 is heavy: 1180g and believe me, it won't move easily on your desk.
2 – Gallery
---
The G810 comes with a
180cm
USB cable: handy when the computer is far from the keyboard: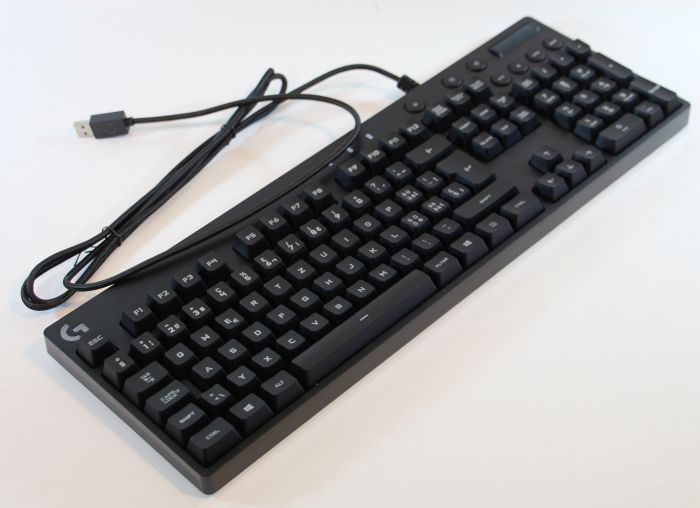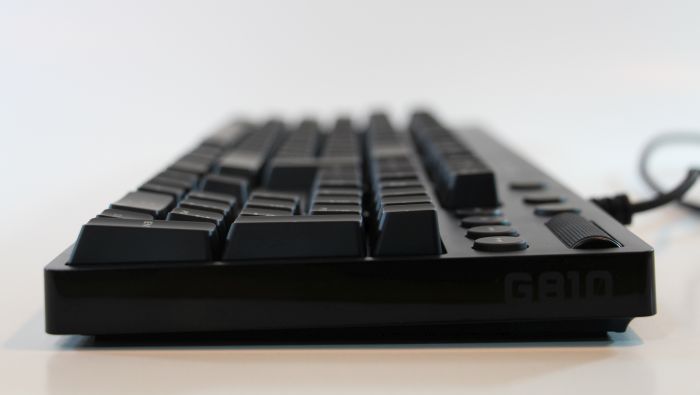 ---
The media control buttons are handy to quickly turn off the sound or switch to the next audio track.
---
The G810 offers three different angles for optimal adjustment on your desk: 0°, 4° and 8°: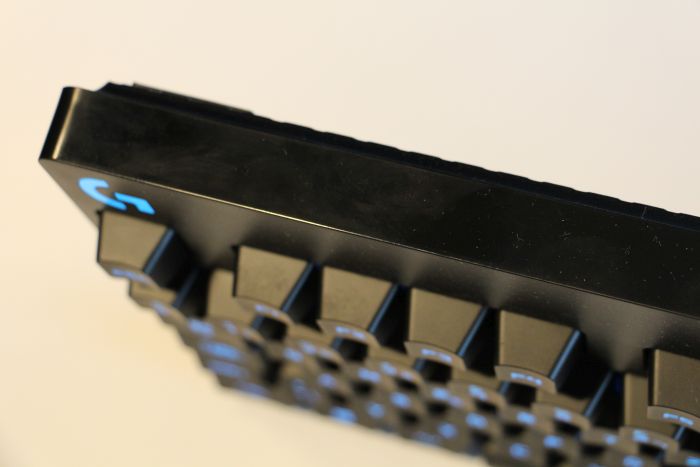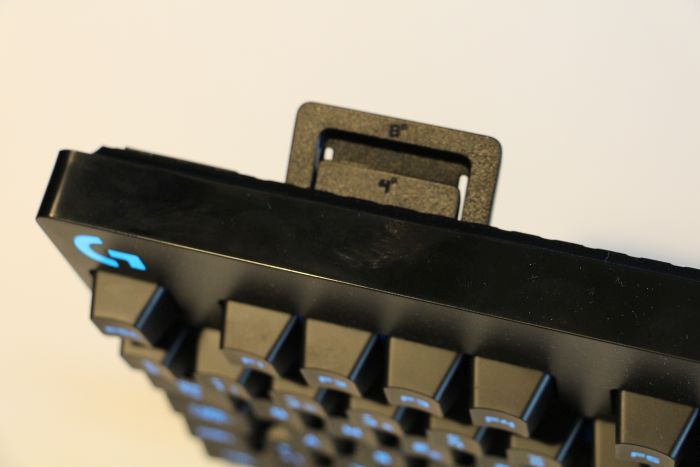 3 – Keyboard Software and RGB Lighting
RGB lighting is the second nice feature of the G810 keyboard. Thanks to Logitech Gaming Software, you can fully customize your keyboard illumination:
Use Logitech Gaming Software to choose your level of customization with the ability to select and personalize each individual key light from a spectrum of over 16.8 million colours. Synchronize lighting effects with other Logitech G devices using Logitech Gaming Software. Mark keys by color to keep track of spells and other commands, or change colors to match your setup. Orion Spectrum has centrally lit keycaps and more uniform lighting coverage across each keycaps for cleaner, more readable lettering. Logitech Gaming Software comes pre-loaded with profiles for over 300 games.
Logitech Gaming Software can be downloaded from THIS PAGE.
Some examples of RGB customizations:
Lighting mode – Effect – color wave

Lighting mode – Zones

4 – Conclusion
I love the sound that these mechanical switches produce! Since few days, I use this keyboard for my coding + blog articles needs and its professional and minimal look as well as its customizable RGB lighting are perfect for me. I appreciate the long USB cable and the basic media control buttons that allow, for example, to quickly change the audio volume.
Final word: this keyboard is a bit expensive
(ok, it comes with a game: Tom Clancy's THE DIVISION, but it's not a reason!), around 200CHF (or USD $200) here in Switzerland, but it's a great mechanical keyboard and I enjoy using it for my daily work.
The very last word: I just discovered a SDK for programming the RGB lighting here: Logitech SDKs. The SDK looks simple to use and I will add it to GeeXLab as soon as possible!
---
Here are some video reviews of Logitech's G810 keyboard: