Other announcement by AMD yesterday at the GDC 2016 event, a new dual-GPU graphics card: the Radeon Pro Duo. This new Radeon graphics card will be based on two full Fiji GPUs, the same GPU that drives the Radeon R9 Fury X.
Main specs of the Radeon Pro Duo:
GPU: 2 x Fiji @ 1000MHz boost clock, TSMC 28nm, GCN 1.2
Stream processors: 8192 (2 x 4096)
Memory: 8GB HBM (2 x 4GB), 8192-bit (2 x 4096)
Texture units: 512 (2 x 256)
ROPs: 128 (2 x 64)
FP32: 16 TFLOPS single-precision floating-point performance (GFLOPS table comparison)
FP64: 1/16 FP32
TDP: 350W
Power connectors: 3 x 8-pin
According to this news, the Radeon Pro Duo should be 50% faster than the GeForce GTX TITAN Z.
The Radeon Pro Duo should be priced at USD $1499…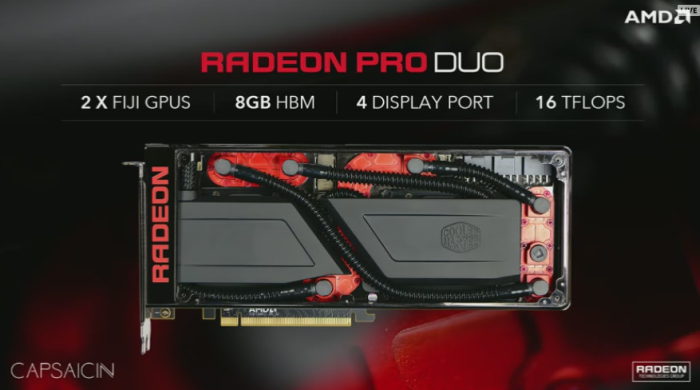 ---
Update (2016.03.17)
Dual-GPU graphics cards battle (source): Radeon Pro Duo vs Radeon R9 295X2 vs GeForce GTX Titan Z: