A quick review of ASUS G551JW, one of the ROG (Republic of Gamers) gaming notebooks.
Article Index:
Here is the illuminated logo on the matte-black brushed aluminum finish: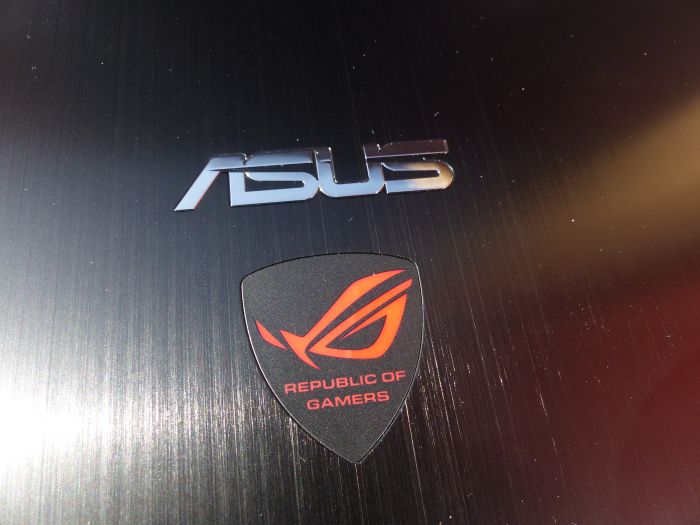 The G551J is a 15-inch gaming notebook with an IPS full-HD (1920×1080) panel and its main features are:
CPU: Intel Core i7 4720HQ quad-core with hyper-threading (8 logical cores)
Memory: 16GB (2x8GB) of DDR3L SDRAM
Monitor: 15.6″ IPS (178°) FHD (1920×1080) anti-glare panel
Graphics card: NVIDIA GeForce GTX 960M with 4GB GDDR5 of VRAM
Storage: 1 x 128GB (SSD M2) and 1 x 1TB HDD 5400 rpm
Card reader: 3 -in-1 card reader ( SD/ SDXC/ MS/ MS Pro/MS Pro Duo/ MMC)
Network: 1 x ethernet 10/100/1000/Gigabits Base T, WIFI 802.11 b/g/n or 802.11a/b/g/n/ac, Bluetooth 4.0
Interface: 1 x Microphone-in jack, 1 x Headphone-out jack (Audio-in Combo), 3 x USB 3.0 ports, 1 x RJ45 LAN Jack for LAN insert, 1 x HDMI, 1 x mini Display Port
Audio: Built-in 2 speakers and microphone Bang & Olufsen
Battery: 6 cells 5200 mAh 56 Whrs
Power supply: 19 V DC, 6.3 A, 120 W
Weight: 2.7 kg
More information and marketing stuff can be found on the G551JW homepage.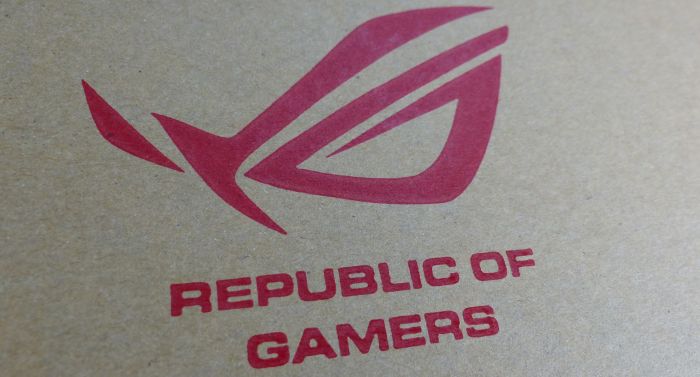 1 – Gallery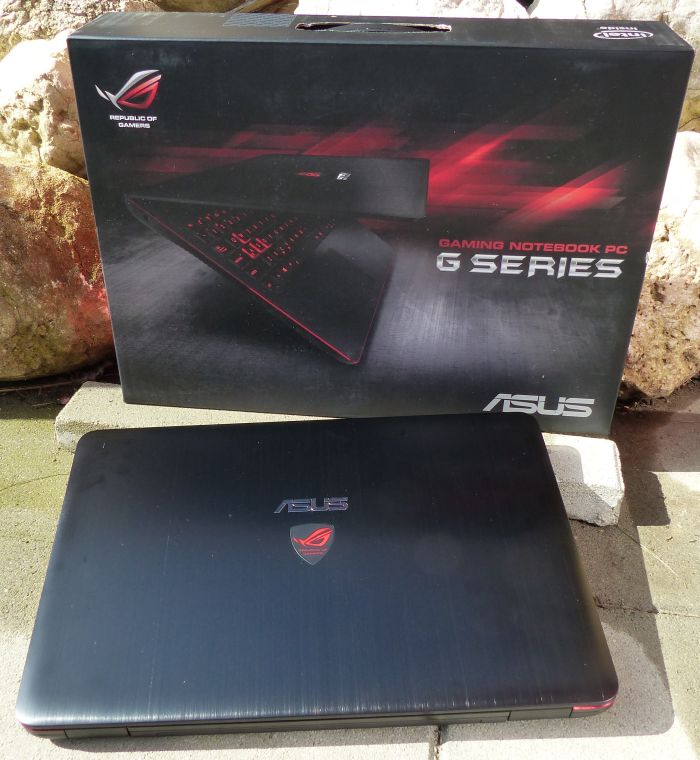 The bundle includes the notebook, the power supply unit, a power cable, a cable tie, and some documentation: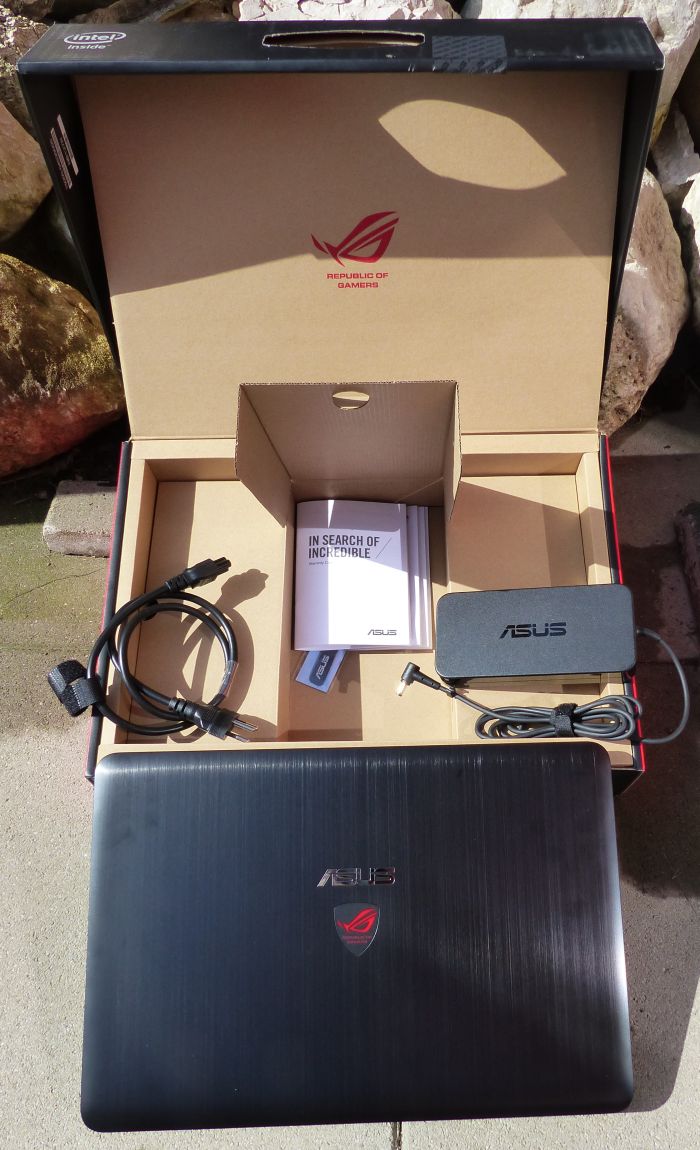 The 120W power supply unit: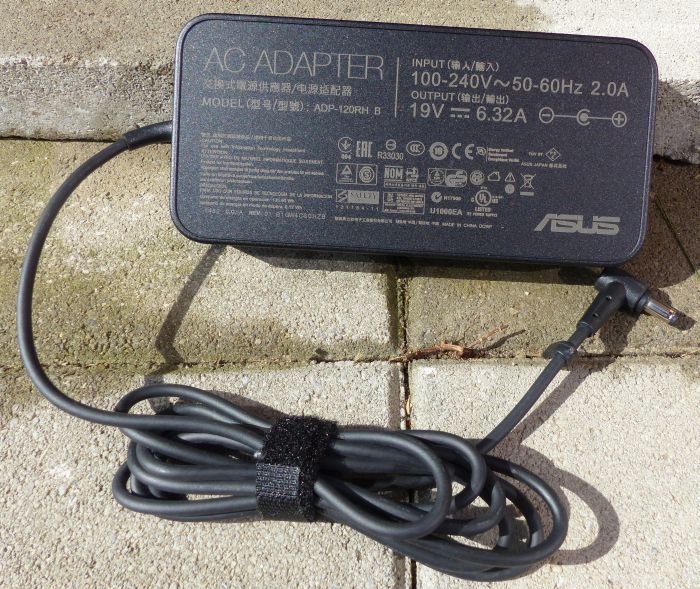 The notebook: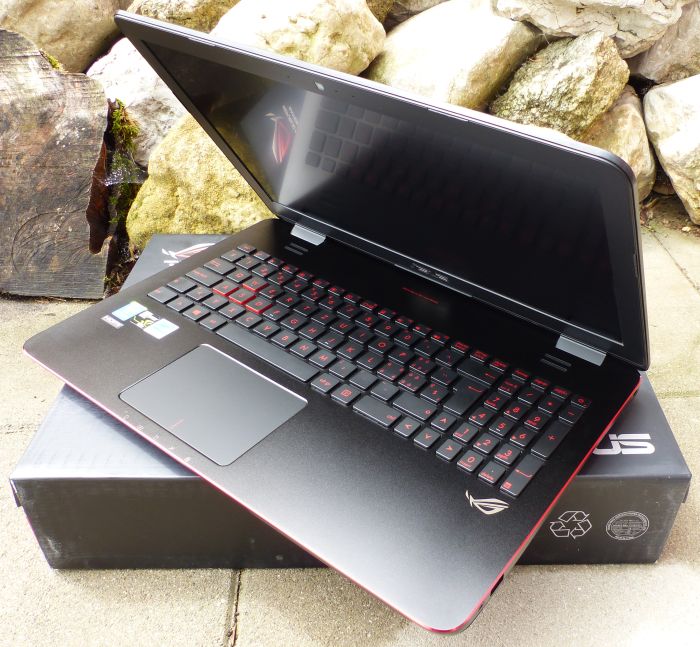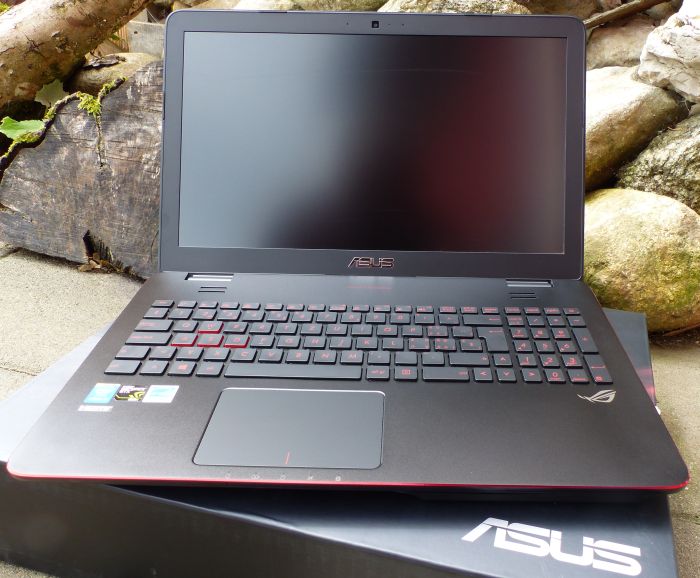 Some input/ouput connectors: power, mini DisplayPort, HDMI 2.0, RJ45 LAN and 2 x USB 3.0: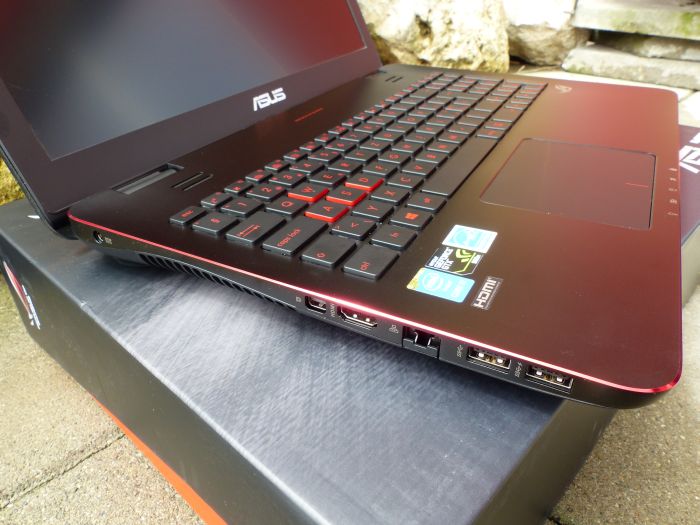 The other side: the jack for speakers/microphone, the DVD reader/writer and the Kensington security lock: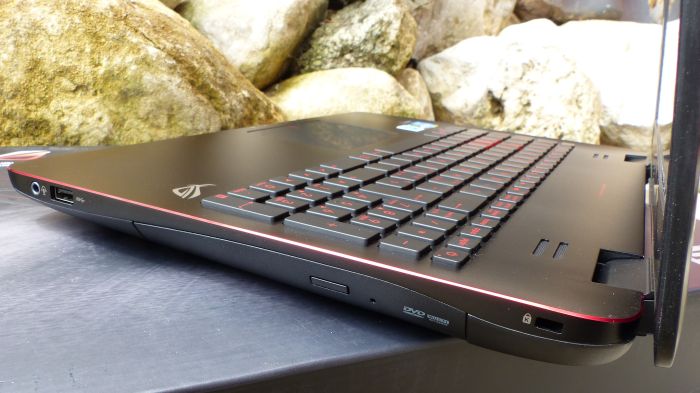 The keyboard with gaming ASWD keys:

The keyboard is illuminated and you can turn this feature on/off directly from the keyboard:

The rear side of the notebook: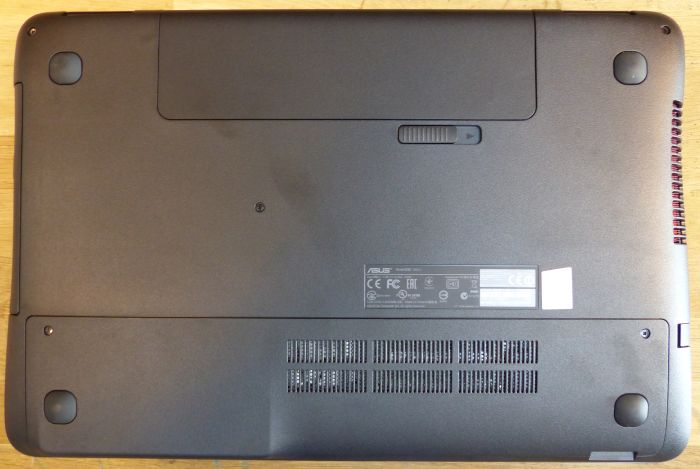 The battery: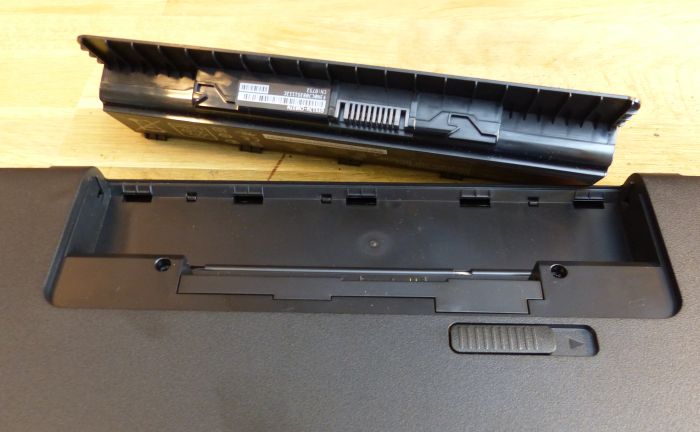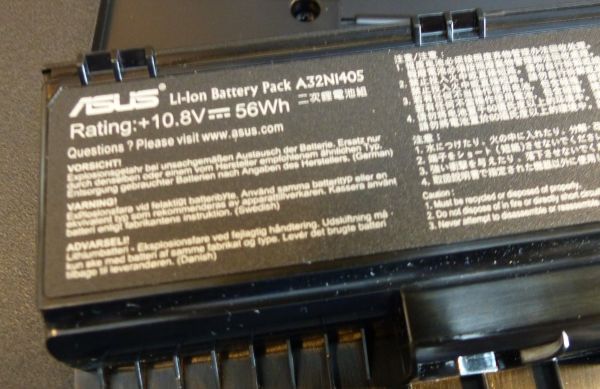 You can easily access to the memory modules or to the second storage unit, just remove two screws: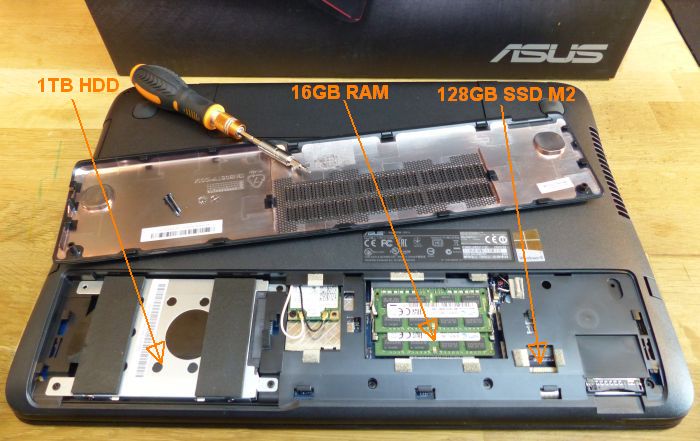 The 1TB HDD and the memory modules can be easily replaced. Not the 128GB SSD M2 that is more embedded in the chassis.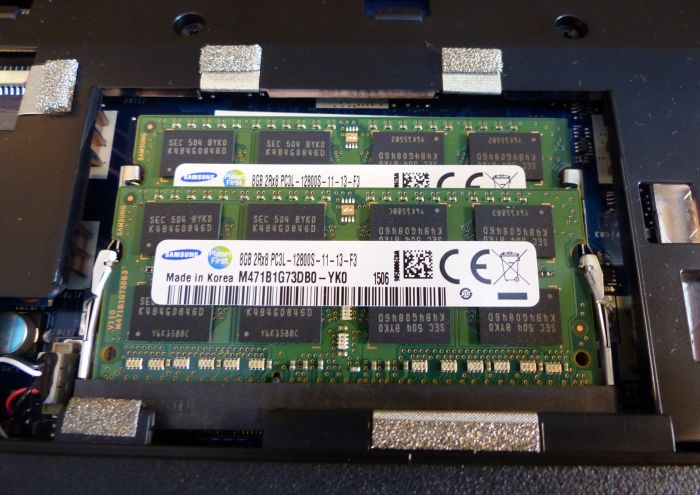 2 – Hardware Information
Let's see what kind of hardware is hidden in the G551J.
The CPU and memory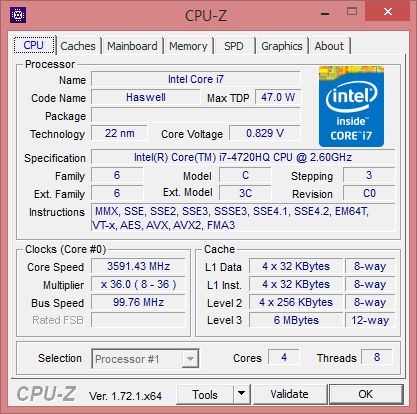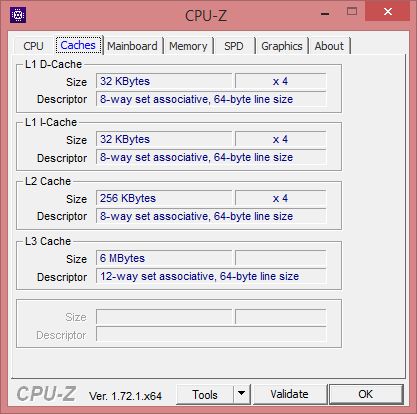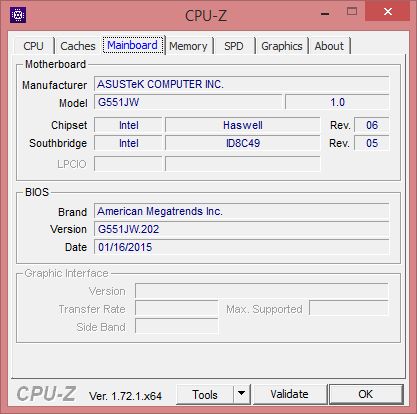 The GPU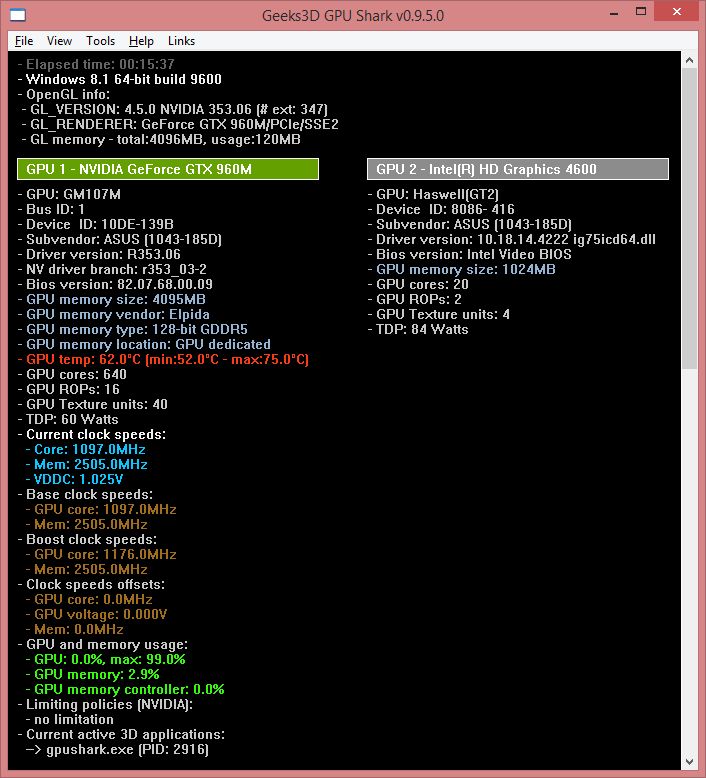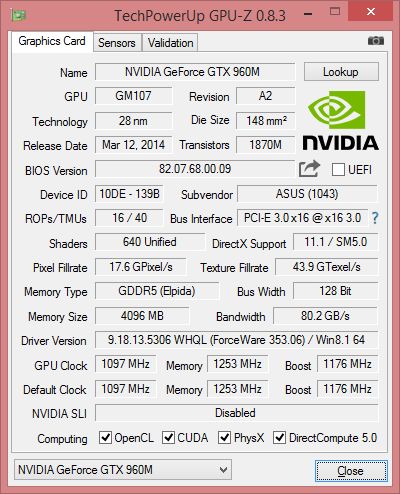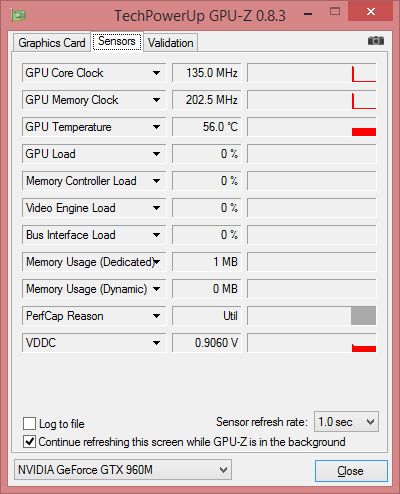 The 128GB SSD M2 Unit
3 – Benchmarks
3.1 – GPU
A global score page (with all graphics cards) is available here:

>>>> 1920×1080 Benchmarks Scores <<<<<
Here are the scores for ASUS G551J:
3DMark Ice Storm: 82952
3DMark Cloud Gate: 16056
3DMark Sky Diver: 13028
3DMark Fire Strike: 4022
Alien vs Predator 1920×1080: 57.1 FPS
Resident Evil 6: 4495 (rank B)
Catzilla 1.4, P720: 8036
Unigine Valley (Extreme HD): FPS: 18.2, Score: 763
FurMark P1080: 1008 points (16 FPS)
MSI Kombustor Plasma: 2364 points (39 FPS)
MSI Kombustor Julia4D OpenCL: 1786 points (29 FPS)
MSI Kombustor Lakes of Titan: 2293 points (38 FPS)
GPU Test 0.7.0 Volplosion: 991 points (16 FPS)
GPU Test 0.7.0 Julia FP32: 8634 points (143 FPS)
GPU Test 0.7.0 Julia FP64: 727 points (12 FPS)
The FurMark score is low because after around 20 seconds, the GPU throttled down and the core clock dropped at 405MHz! This drop is important when we know that the base clock is 1097MHz.
The GTX 960M is based on the same GPU than the desktop GTX 750 Ti (GM107 with 640 CUDA cores, 40 TMUs and 16 ROPs). The benchmark page shows that the GTX 960M is just behind the desktop GTX 750 (which has less CUDA cores: only 512) in more or less all the tests (but fortunately, the GTX 960M beats the GTX 750 in 3DMark FireStrike and in Catzilla 1.4). What's more, in MSI Kombustor Plasma (it's an OpenGL 4.3 test that uses compute shaders), there is a significant difference: the GTX 960M is far behind the desktop GTX 750. There's something weird in these results. GPU throttling? With FurMark, it's obvious, but with other tests, it's less clear.
3.2 – SSD
Here is a test of the 128GB SSD M2 (the boot unit) unit with CrystalDiskMark: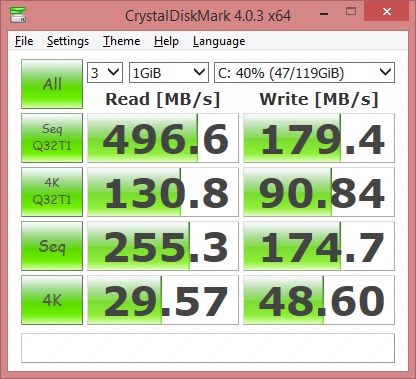 The reading performance (496MB/sec) are correct but I expected better writing performance for this disk (only 179MB/sec!).
3.3 – Battery
To test the battery, I used the Creative test of PCMark 8 Pro. The estimated battery life is 2 hours and 5 minutes. The Creative test is quite heavy and you can expect more battery life (3 hours) if you only browse the Net.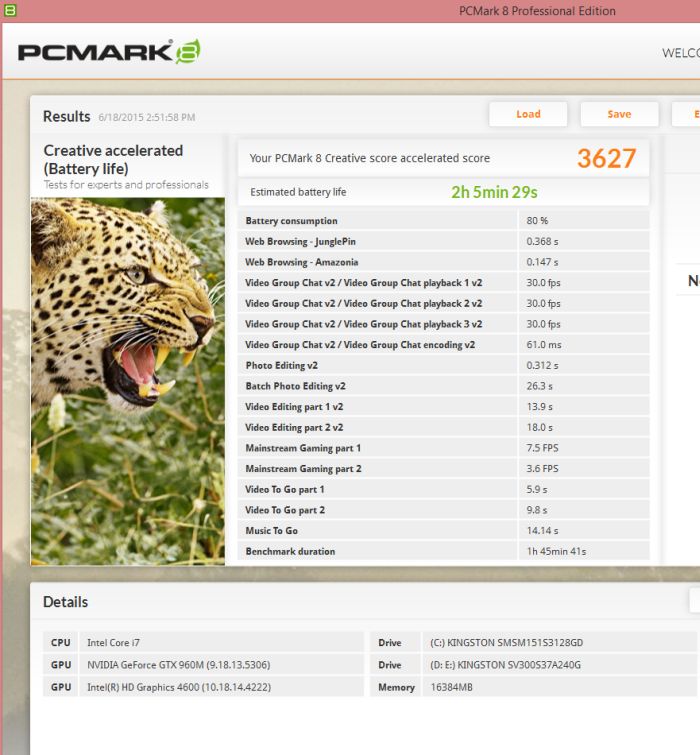 4 – Burn-in Test
4.1 – GPU Temperature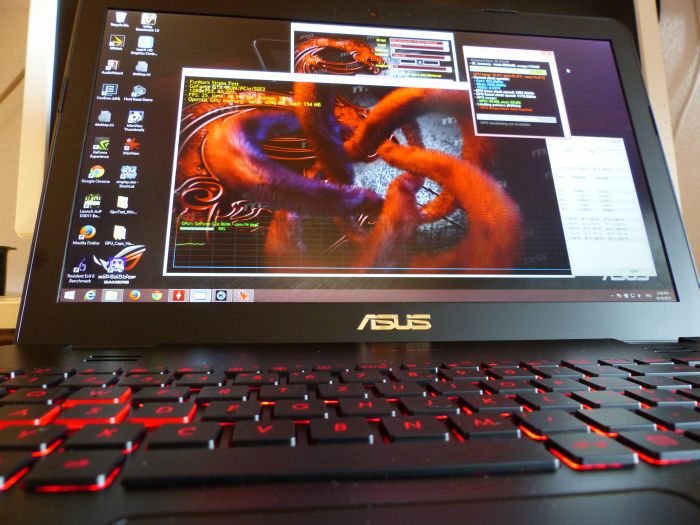 I used MSI Kombustor to stress test the graphics hardware.
At idle state, the GPU temperature is around 34°C. In load, the GPU temperature reaches 74°C, after what NVIDIA GPU Boost does the necessary (like decreasing the core clock at 719MHz — base clock is 1097MHz) to keep this temperature at this value.
I measured a noise of 33dB at idle and 39dB under stress test (load) at the position of my head.
4.2 – Thermal Imaging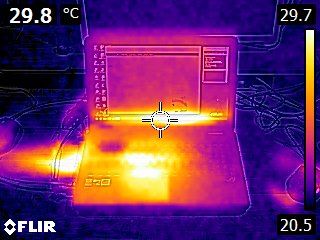 Idle state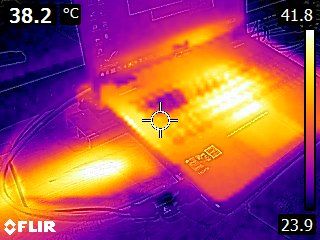 Load state



Load state

5 – Conclusion
The overall impression is good. The black/red design is nice, the noise at idle is barely audible (33dB) and the anti-glare panel displays vivid colors without reflections everywhere (anti-glare!). The reddish illuminated keyboard is pleasant and comfortable to use. In normal gaming situations and in 3D programming, the GeForce GTX 960M is good. The GTX 960M has the same features than the desktop GTX 750 Ti (GM107, 640 CUDA cores, 40 TMUs and 16 ROPs) but is, in my tests, more or less as fast as the desktop GTX 750 (512 CUDA cores). Its 4GB of GDDR5 graphics memory are enough for most of the games in FHD resolutions.
I didn't appreciate three details: the old 5400 rpm HDD (today's notebooks should have only SSD storage units!), the slow-in-write 128GB SSD M2 (ASUS has selected the Kingston SMSM151 that has good reading speed but that is slow in writing, while a better choice would have been the Kingston SM2280S3: more than 500MB/sec in read/write!) and the GPU throttling. Fortunately, you can easily replace the 1TB HDD by a fast SSD. This is another story if you want to replace the boot SSD. You have to unmount the whole rear side, too bad!
The battery life in working situation is short (a bit more than 2 hours) but it's a gaming notebook, an electric outlet should be always close to the notebook…
Final Verdict
8/10
PROS:
– Intel Core i7-4720HQ (4 physical cores and 8 logical cores)
– 16GB system RAM
– GeForce GTX 960M gaming graphics card (based on the GM107 GPU)
– 4GB of GDDR5 graphics memory
– good GPU temperature at idle state (35-40°C)
– quiet at idle
– correct GPU temperature under load (74°)
– one mini-DisplayPort 1.2 connector and one HDMI 2.0 connector (for 4k @ 60Hz)
– nice black and red design
– keyboard with red LED backlighting
– second storage unit can be updated (you can replace the HDD by a SSD)

CONS:
– first unit storage is slow in writing (128GB SSD M2: only 176MB/sec)
– second storage unit is not SSD (1TB HDD 5400 rpm).
– GPU throttling
– short battery life
Last thing before I forget, I installed a fresh copy of Windows 8.1 because the initial installation done by ASUS comes with softwares I don't like because they slow down the system (McAfee for exemple): 25 seconds to get the task manager…