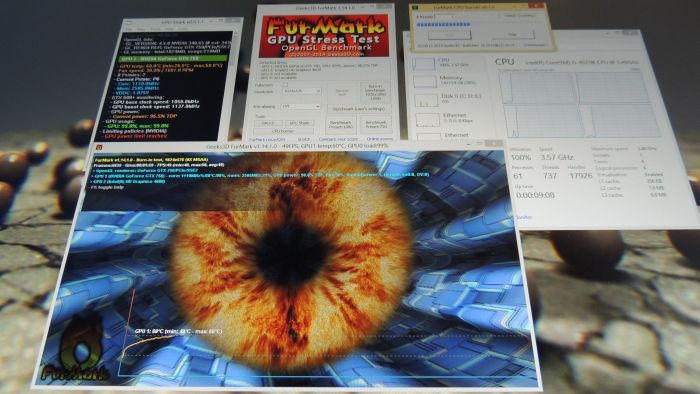 ---



FurMark 1.14.1 DOWNLOAD

Webmasters: hotlinking is not allowed, please use the post url as download link.

[download#409#image]

Useful links:
---
A new maintenance release of FurMark is available. FurMark 1.14.1 brings better Pstates (performance states) management for NVIDIA GPUs and better detection of Intel GPUs. The /dyn_camera command line has been fixed and two new command line options have been added to launch Preset:1080 and Preset:720 benchmarks: /preset=1080 and /preset=720.
FurMark 1.14.1 changelog:

Version 1.14.1.4 - 2014-09-24
-----------------------------
- added support of GeForce GTX 980 and GTX 970.
- updated: GPU Shark 0.9.1.4
- updated: ZoomGPU 1.9.4 (GPU monitoring library)


Version 1.14.1.2 - 2014-09-13
-----------------------------
- fixed a % typo in the display of GPU data during the rendering.
- improved GPU detection on notebooks with NVIDIA GPU and Intel GPU 
  (tested on ASUS N550J with NVIDIA GTX 850M + Intel HD 4600).
- updated online submission code.
- updated: GPU Shark 0.9.1.2
- updated: ZoomGPU 1.9.3 (GPU monitoring library)


Version 1.14.1.0 - 2014-09-08
-----------------------------
- improved the monitoring of NVIDIA GPUs (better Pstate management of recent GPUs).
- improved reading of GPU data for Intel GPUs.
- added support of GIGABYTE BRIX GTX 760.
- updated online submission code.
- updated: GPU Shark 0.9.1.1
- added command line option to select a preset: /preset=720 or /preset=1080
- fixed the dynamic camera command line option (/dyn_camera)
- updated: ZoomGPU 1.9.2 (GPU monitoring library)