GPU Shark 0.9.1 Released (Updated: v0.9.1.2)



GPU Shark 0.9.1 DOWNLOAD

Webmasters: hotlinking is not allowed (and actually it does not work), please use the post url as download link.

This is a maintenance version of GPU Shark that improves the management of Pstates (performance states) for NVIDIA GPUs. Now, GPU Shark 0.9.1 works fine with the GTX 760 version of GIGABYTE BRIX gaming system.
What is GPU Shark?
GPU Shark is a simple, lightweight and free GPU monitoring tool for GeForce and Radeon based graphics cards and is available for Windows only. GPU Shark offers a global view of all your graphics cards in a single window. More information HERE.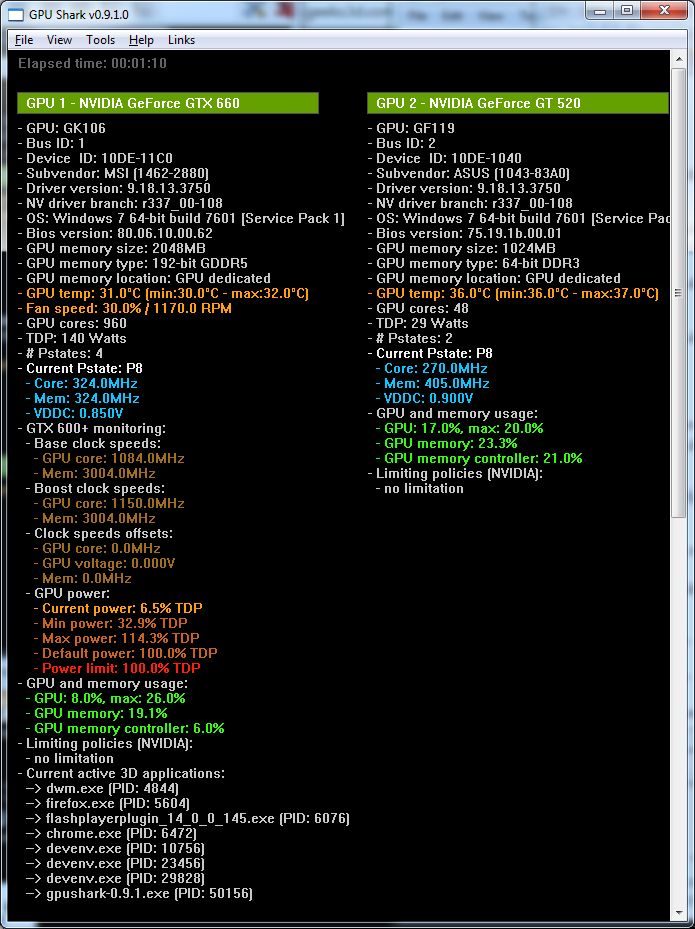 Detailed view
GPU Shark 0.9.1 changelog
:

Version 0.9.1.2 - 2014.09.13
---------------------------
- fixed a bug in the driver version used for online submission.
- fixed GPU detection on notebooks with NVIDIA GPU and Intel GPU 
  (tested on ASUS N550J with NVIDIA GTX 850M + Intel HD 4600).
- NVIDIA GPUs: display of all Pstates as well as base and boost clocks.
- fixed memory size reading for NVIDIA GPU.
- updated: ZoomGPU 1.9.3

Version 0.9.1.1 - 2014.09.08
---------------------------
- improved GPU data reading for Intel GPUs.
- updated: ZoomGPU 1.9.2

Version 0.9.1.0 - 2014.09.05
---------------------------
- improved the monitoring of NVIDIA GPUs (better Pstate management of recent GPUs).
- added OpenGL info in the simplified view.
- added support of GIGABYTE BRIX GTX 760.
- updated online submission code.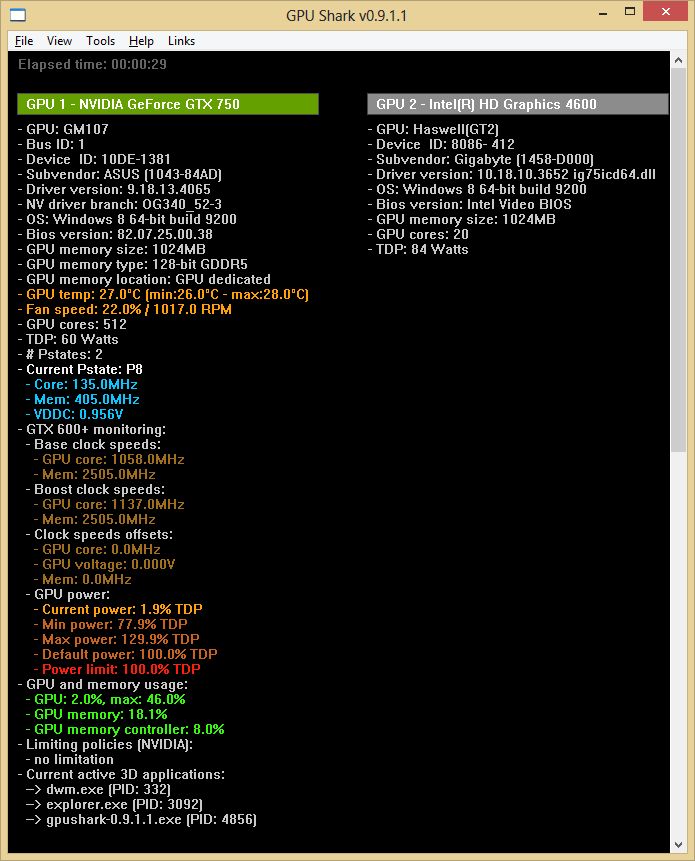 GPU Shark 0.9.1.1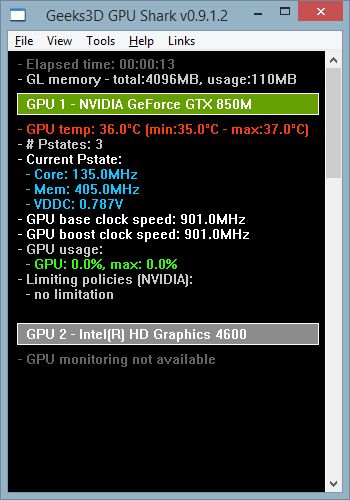 GPU Shark 0.9.1.2
Tweet