AMD FirePro W9100 OpenGL 4 FP32 and FP64 Scores (Julia Fractal)


One month ago, I published a test about FP64 in OpenGL 4. The test is based on the Julia FP64/FP32 demo of GpuTest 0.7.0.

YulFi, one of Geeks3D readers, owns the recently launched AMD FirePro W9100, a workstation graphics card that has this nice feature: FP64 = 1/2 FP32. YulFi sent us the scores of the W9100 in FP32 and FP64 and according to this test, we have fp64 = 1/2 fp32. The W9100 is now the fastest graphics card in the Julia FP32 and FP64 test.
Julia FP32 – Benchmark settings: 1280×720, windowed, MSAA=Off, 60 seconds
135760 points (2267 FPS) – FirePro W9100

106391 points
(1771 FPS, Windows, Cat 14.2 beta) – Radeon HD 7970

83324 points
(1386 FPS, Windows, R334.89, ***FP64 OFF***) – GeForce GTX Titan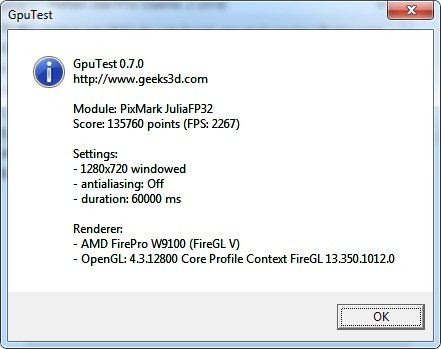 Julia FP64 – Benchmark settings: 1280×720, windowed, MSAA=Off, 60 seconds
67570 points (1129 FPS) – FirePro W9100

40885 points
(680 FPS, Windows, Cat 14.2 beta) – Radeon HD 7970

31137 points
(580 FPS, Windows, R334.89, ***FP64 ON***) – GeForce GTX Titan