NVIDIA has just launched the first graphics cards based on Maxwell, NVIDIA's new GPU architecture. The GeForce GTX 750 Ti and GeForce GTX 750 are both powered by a GM107, a cut down version of an upcoming flagship (GM110 ?) GPU. The Maxwell architecture is focused on power efficiency: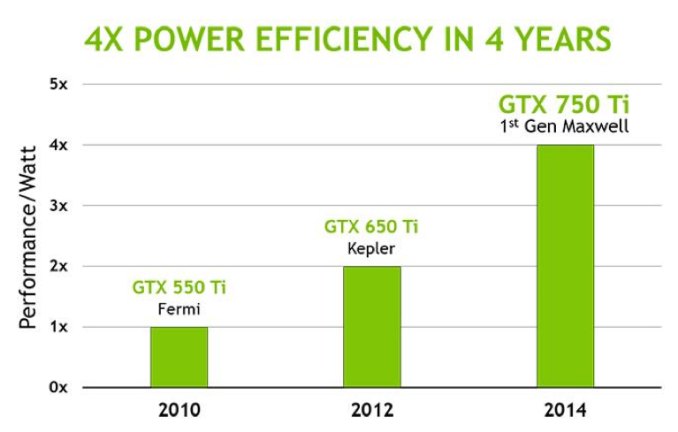 Kepler SMXs (streaming multiprocessors) are now replaced by Maxwell SMMs. A SMM packs 128 CUDA cores (SMX = 192 cores). The L2 cache size has been increased from 256KB in Kepler to 2048KB in Maxwell.

The new GTX 750 and GTX 750 Ti targets the old GeForce GTX 650 Ti and the recently launched AMD Radeon R7 265.
GeForce GTX 750 Ti specifications
GPU: GM107 @ 1020MHz (base) / 1085MHz (boost), 28nm
Cores: 640 (5 SMMs)
Texture units: 40
ROPs: 16
Memory: 2048MB @ 5.4GHz GDDR5, 128-bit
TDP: 60W
Price: USD $149
GeForce GTX 750 specifications
GPU: GM107 @ 1020MHz (base) / 1085MHz (boost), 28nm
Cores: 512 (4 SMMs)
Texture units: 32
ROPs: 16
Memory: 1024MB @ 5.0GHz GDDR5, 128-bit
TDP: 55W
Price: USD $119
Related Articles and Reviews


NVIDIA GeForce GTX 750 Ti global performance