Intel HD Graphics Driver v10.18.10.3345 Available for Windows, New OpenGL 4.1 / 4.2 / 4.3 Extensions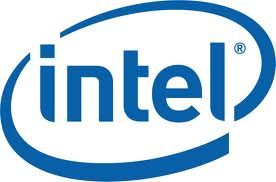 Intel has released a new Win7/Win8 driver for HD Graphics 2500/4000/4200/4400/4600/5000, for Iris Graphics 5100 and for Iris Pro Graphics 5200. This new driver 10.18.10.3345 adds a ton of new OpenGL extensions (OpenGL 4.1 / 4.2 / 4.3), adds Intel Wireless Display native Miracast support for wireless streaming on Windows 8.1, brings DirectX 9 optimizations and and fixes multiple bugs. The complete release notes are
available HERE.
You can download v3345 from this page.
v3345 is an OpenGL 4.0 (178 extensions: GL=159 + WGL=19) but exposes also some OpenGL 4.1 / OpenGL 4.2 and OpenGL 4.3 extensions. Compared to v3257, v3345 adds 22 new OpenGL extensions:
GL_ARB_internalformat_query2 (OpenGL 4.3)
GL_ARB_texture_swizzle (OpenGL 3.3)
GL_ARB_texture_buffer_range (OpenGL 4.3)
GL_ARB_get_program_binary (OpenGL 4.1)
GL_ARB_separate_shader_objects (OpenGL 4.1)
GL_ARB_shader_precision (OpenGL 4.1)
GL_ARB_vertex_attrib_64bit (OpenGL 4.1)
GL_ARB_viewport_array (OpenGL 4.1)
GL_ARB_compressed_texture_pixel_storage (OpenGL 4.2)
GL_ARB_shader_atomic_counters (OpenGL 4.2)
GL_ARB_shading_language_packing (OpenGL 4.1)
GL_ARB_shading_language_420pack (OpenGL 4.2)
GL_ARB_multi_draw_indirect (OpenGL 4.3)
GL_ARB_program_interface_query (OpenGL 4.3)
GL_ARB_debug_output (OpenGL 3.0)
GL_KHR_debug (OpenGL 4.3)
GL_ARB_arrays_of_arrays (OpenGL 4.3)
GL_ARB_texture_compression_bptc (OpenGL 4.2)
GL_ARB_robustness (OpenGL 4.1)
GL_EXT_texture_sRGB_decode
WGL_EXT_create_context_es_profile
WGL_ARB_create_context_robustness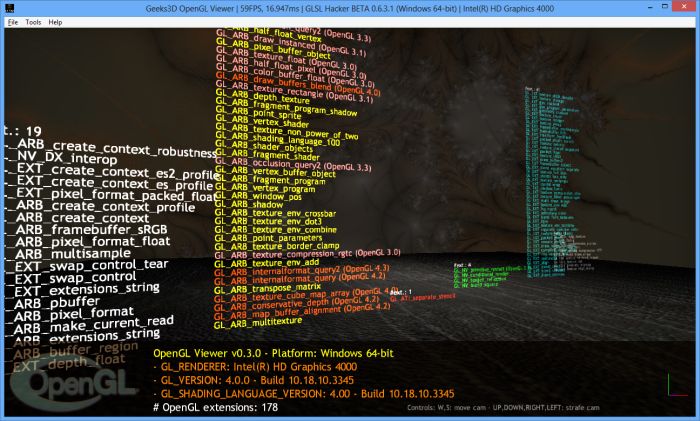 GLSL Hacker, OpenGL Viewer demo (latest DEV version for Windows)
The complete list of all 178 extensions exposed for a HD Graphics 4000 GPU under Win8 64-bit is available here
GL_EXT_blend_minmax (Requires OpenGL 1.2)
GL_EXT_blend_subtract (Requires OpenGL 1.2)
GL_EXT_blend_color (OpenGL 1.4 OpenGL 1.4)
GL_EXT_abgr
GL_EXT_texture3D (Requires OpenGL 1.2)
GL_EXT_clip_volume_hint
GL_EXT_compiled_vertex_array (Requires OpenGL 1.1)
GL_SGIS_texture_edge_clamp (Requires OpenGL 1.2)
GL_SGIS_generate_mipmap (Requires OpenGL 1.4)
GL_EXT_draw_range_elements (Requires OpenGL 1.2 / Core Feature of OpenGL 1.4)
GL_SGIS_texture_lod (Requires OpenGL 1.2)
GL_EXT_rescale_normal (Requires OpenGL 1.2)
GL_EXT_packed_pixels (Requires OpenGL 1.2)
GL_EXT_texture_edge_clamp
GL_EXT_separate_specular_color (Requires OpenGL 1.2)
GL_ARB_multitexture (OpenGL 1.3)
GL_ARB_map_buffer_alignment (OpenGL 4.2)
GL_ARB_conservative_depth (OpenGL 4.2)
GL_EXT_texture_env_combine
GL_EXT_bgra (OpenGL 1.2)
GL_EXT_blend_func_separate (Requires OpenGL 1.2 / Core Feature of OpenGL 1.4)
GL_EXT_secondary_color (Requires OpenGL 1.2 / Core Feature of OpenGL 1.4)
GL_EXT_fog_coord (Requires OpenGL 1.2 / Core Feature of OpenGL 1.4)
GL_EXT_texture_env_add
GL_ARB_texture_cube_map (OpenGL 1.3)
GL_ARB_transpose_matrix (OpenGL 1.3)
GL_ARB_internalformat_query (OpenGL 4.2)
GL_ARB_internalformat_query2 (OpenGL 4.3)
GL_ARB_texture_env_add (OpenGL 1.3)
GL_IBM_texture_mirrored_repeat
GL_EXT_multi_draw_arrays (OpenGL 1.2 / Core Feature of OpenGL 1.4)
GL_SUN_multi_draw_arrays
GL_NV_blend_square (Requires OpenGL 1.2.1 / Core Feature of OpenGL 1.4)
GL_ARB_texture_compression (OpenGL 1.3)
GL_3DFX_texture_compression_FXT1
GL_EXT_texture_filter_anisotropic (Requires OpenGL 1.2)
GL_ARB_texture_border_clamp (OpenGL 1.3)
GL_ARB_point_parameters (OpenGL 1.4)
GL_ARB_texture_env_combine (OpenGL 1.3)
GL_ARB_texture_env_dot3 (OpenGL 1.3)
GL_ARB_texture_env_crossbar (OpenGL 1.4)
GL_EXT_texture_compression_s3tc (Requires OpenGL 1.2.1)
GL_ARB_shadow (OpenGL 1.4)
GL_ARB_window_pos (OpenGL 1.4)
GL_EXT_shadow_funcs (Requires OpenGL 1.3 / Core Feature of OpenGL 1.5)
GL_EXT_stencil_wrap (Requires OpenGL 1.4)
GL_ARB_vertex_program (Requires OpenGL 1.3)
GL_EXT_texture_rectangle (Requires OpenGL 1.3)
GL_ARB_fragment_program (OpenGL 1.3)
GL_EXT_stencil_two_side
GL_ATI_separate_stencil (Requires OpenGL 1.2.1)
GL_ARB_vertex_buffer_object (OpenGL 1.5)
GL_EXT_texture_lod_bias (Requires OpenGL 1.2 / Core Feature of OpenGL 1.4)
GL_ARB_occlusion_query (OpenGL 1.5)
GL_ARB_fragment_shader (OpenGL 2.0)
GL_ARB_shader_objects (OpenGL 2.0)
GL_ARB_shading_language_100 (OpenGL 2.0)
GL_ARB_texture_non_power_of_two
GL_ARB_vertex_shader (OpenGL 2.0)
GL_NV_texgen_reflection (Requires OpenGL 1.3)
GL_ARB_point_sprite (OpenGL 2.0)
GL_ARB_fragment_program_shadow (OpenGL 1.3)
GL_EXT_blend_equation_separate
GL_ARB_depth_texture (OpenGL 1.4)
GL_ARB_texture_rectangle (OpenGL 3.1)
GL_ARB_draw_buffers (OpenGL 2.0)
GL_ARB_color_buffer_float (OpenGL 3.0)
GL_ARB_half_float_pixel (OpenGL 3.0)
GL_ARB_texture_float (OpenGL 3.0)
GL_ARB_pixel_buffer_object (OpenGL 2.1)
GL_EXT_framebuffer_object (Requires OpenGL 3.0)
GL_ARB_draw_instanced (OpenGL 3.1)
GL_ARB_half_float_vertex (OpenGL 2.1)
GL_ARB_occlusion_query2 (OpenGL 3.3)
GL_EXT_draw_buffers2 (OpenGL 3.0)
GL_WIN_swap_hint
GL_EXT_texture_sRGB
GL_ARB_multisample (OpenGL 1.3)
GL_EXT_packed_float (OpenGL 3.0)
GL_EXT_texture_shared_exponent (OpenGL 3.0)
GL_ARB_texture_rg (OpenGL 3.0)
GL_ARB_texture_compression_rgtc (OpenGL 3.0)
GL_NV_conditional_render (OpenGL 3.0)
GL_ARB_texture_swizzle (OpenGL 3.3)
GL_EXT_texture_swizzle (OpenGL 2.1)
GL_ARB_texture_gather (OpenGL 4.0)
GL_ARB_sync (OpenGL 3.2)
GL_ARB_framebuffer_sRGB (OpenGL 3.0)
GL_EXT_packed_depth_stencil (OpenGL 3.0)
GL_ARB_depth_buffer_float (OpenGL 3.0)
GL_EXT_transform_feedback (OpenGL 3.0)
GL_ARB_transform_feedback2 (OpenGL 4.0)
GL_ARB_draw_indirect (OpenGL 4.0)
GL_EXT_framebuffer_blit (OpenGL 3.0)
GL_EXT_framebuffer_multisample (OpenGL 3.0)
GL_ARB_framebuffer_object (OpenGL 3.0)
GL_EXT_texture_array (OpenGL 3.0)
GL_EXT_texture_integer (OpenGL 3.0)
GL_ARB_map_buffer_range (OpenGL 2.1)
GL_ARB_texture_buffer_range (OpenGL 4.3)
GL_EXT_texture_snorm
GL_ARB_blend_func_extended (OpenGL 3.3)
GL_INTEL_performance_queries
GL_ARB_copy_buffer (OpenGL 3.1)
GL_ARB_sampler_objects (OpenGL 3.3)
GL_NV_primitive_restart (OpenGL 3.1)
GL_ARB_seamless_cube_map (OpenGL 3.2)
GL_ARB_uniform_buffer_object (OpenGL 3.1)
GL_ARB_depth_clamp (OpenGL 3.2)
GL_ARB_vertex_array_bgra (OpenGL 3.2)
GL_ARB_shader_bit_encoding (OpenGL 3.3)
GL_ARB_draw_buffers_blend (OpenGL 4.0)
GL_ARB_geometry_shader4 (OpenGL 3.2)
GL_EXT_geometry_shader4 (Requires OpenGL 2.0)
GL_ARB_texture_query_lod (OpenGL 4.0)
GL_ARB_explicit_attrib_location (OpenGL 3.3)
GL_ARB_draw_elements_base_vertex (OpenGL 3.2)
GL_ARB_instanced_arrays (OpenGL 3.3)
GL_ARB_base_instance (OpenGL 4.2)
GL_ARB_fragment_coord_conventions (OpenGL 3.2)
GL_EXT_gpu_program_parameters (Requires OpenGL 2.0)
GL_ARB_texture_buffer_object_rgb32 (OpenGL 4.0)
GL_ARB_compatibility (OpenGL 3.2)
GL_ARB_texture_rgb10_a2ui (OpenGL 3.3)
GL_ARB_texture_multisample (OpenGL 3.2)
GL_ARB_vertex_type_2_10_10_10_rev (OpenGL 3.3)
GL_ARB_timer_query (OpenGL 3.3)
GL_ARB_tessellation_shader (OpenGL 4.0)
GL_ARB_vertex_array_object (OpenGL 2.1)
GL_ARB_provoking_vertex (OpenGL 3.2)
GL_ARB_sample_shading (OpenGL 4.0)
GL_ARB_texture_cube_map_array (OpenGL 4.0)
GL_EXT_gpu_shader4 (OpenGL 3.0)
GL_ARB_gpu_shader5 (OpenGL 4.0)
GL_ARB_gpu_shader_fp64 (OpenGL 4.0)
GL_ARB_shader_subroutine (OpenGL 4.0)
GL_ARB_transform_feedback3 (OpenGL 4.0)
GL_ARB_get_program_binary (OpenGL 4.1)
GL_ARB_separate_shader_objects (OpenGL 4.1)
GL_ARB_shader_precision (OpenGL 4.1)
GL_ARB_vertex_attrib_64bit (OpenGL 4.1)
GL_ARB_viewport_array (OpenGL 4.1)
GL_ARB_transform_feedback_instanced (OpenGL 4.2)
GL_ARB_compressed_texture_pixel_storage (OpenGL 4.2)
GL_ARB_shader_atomic_counters (OpenGL 4.2)
GL_ARB_shading_language_packing (OpenGL 4.1)
GL_ARB_shading_language_420pack (OpenGL 4.2)
GL_ARB_texture_storage (OpenGL 4.2)
GL_EXT_texture_storage
GL_ARB_multi_draw_indirect (OpenGL 4.3)
GL_ARB_program_interface_query (OpenGL 4.3)
GL_ARB_debug_output (OpenGL 3.0)
GL_KHR_debug (OpenGL 4.3)
GL_ARB_arrays_of_arrays (OpenGL 4.3)
GL_INTEL_map_texture
GL_ARB_texture_compression_bptc (OpenGL 4.2)
GL_ARB_ES2_compatibility (OpenGL 4.1)
GL_ARB_robustness (OpenGL 4.1)
GL_EXT_texture_sRGB_decode
WGL_EXT_depth_float
WGL_ARB_buffer_region
WGL_ARB_extensions_string
WGL_ARB_make_current_read
WGL_ARB_pixel_format
WGL_ARB_pbuffer
WGL_EXT_extensions_string
WGL_EXT_swap_control (Requires OpenGL 1.2)
WGL_EXT_swap_control_tear
WGL_ARB_multisample
WGL_ARB_pixel_format_float
WGL_ARB_framebuffer_sRGB (OpenGL 2.0)
WGL_ARB_create_context (OpenGL 3.0)
WGL_ARB_create_context_profile
WGL_EXT_pixel_format_packed_float (OpenGL 2.0)
WGL_EXT_create_context_es_profile
WGL_EXT_create_context_es2_profile
WGL_NV_DX_interop
WGL_ARB_create_context_robustness (OpenGL 4.1)
v3345 is an OpenCL 1.2 driver. Here is the GPU Caps Viewer report:

  - CL_DEVICE_NAME:        Intel(R) Core(TM) i5-3337U CPU @ 1.80GHz
	- CL_DEVICE_VENDOR: GenuineIntel
	- CL_DRIVER_VERSION: 1307.1 (sse2,avx)
	- CL_DEVICE_PROFILE: FULL_PROFILE
	- CL_DEVICE_VERSION: OpenCL 1.2 AMD-APP (1307.1)
	- CL_DEVICE_TYPE: CPU
	- CL_DEVICE_VENDOR_ID: 0x1002
	- CL_DEVICE_MAX_COMPUTE_UNITS: 4
	- CL_DEVICE_MAX_CLOCK_FREQUENCY: 1796MHz
	- CL_DEVICE_ADDRESS_BITS: 32
	- CL_DEVICE_MAX_MEM_ALLOC_SIZE: 1048576KB
	- CL_DEVICE_GLOBAL_MEM_SIZE: 2048MB
	- CL_DEVICE_MAX_PARAMETER_SIZE: 4096
	- CL_DEVICE_GLOBAL_MEM_CACHELINE_SIZE: 64 Bytes
	- CL_DEVICE_GLOBAL_MEM_CACHE_SIZE: 32KB
	- CL_DEVICE_ERROR_CORRECTION_SUPPORT: NO
	- CL_DEVICE_LOCAL_MEM_TYPE: Global
	- CL_DEVICE_LOCAL_MEM_SIZE: 32KB
	- CL_DEVICE_MAX_CONSTANT_BUFFER_SIZE: 64KB
	- CL_DEVICE_MAX_WORK_ITEM_DIMENSIONS: 3
	- CL_DEVICE_MAX_WORK_ITEM_SIZES: [1024 ; 1024 ; 1024]
	- CL_DEVICE_MAX_WORK_GROUP_SIZE: 1024
	- CL_EXEC_NATIVE_KERNEL: 18566780
	- CL_DEVICE_IMAGE_SUPPORT: YES
	- CL_DEVICE_MAX_READ_IMAGE_ARGS: 128
	- CL_DEVICE_MAX_WRITE_IMAGE_ARGS: 8
	- CL_DEVICE_IMAGE2D_MAX_WIDTH: 8192
	- CL_DEVICE_IMAGE2D_MAX_HEIGHT: 8192
	- CL_DEVICE_IMAGE3D_MAX_WIDTH: 2048
	- CL_DEVICE_IMAGE3D_MAX_HEIGHT: 2048
	- CL_DEVICE_IMAGE3D_MAX_DEPTH: 2048
	- CL_DEVICE_MAX_SAMPLERS: 16
	- CL_DEVICE_PREFERRED_VECTOR_WIDTH_CHAR: 16
	- CL_DEVICE_PREFERRED_VECTOR_WIDTH_SHORT: 8
	- CL_DEVICE_PREFERRED_VECTOR_WIDTH_INT: 4
	- CL_DEVICE_PREFERRED_VECTOR_WIDTH_LONG: 2
	- CL_DEVICE_PREFERRED_VECTOR_WIDTH_FLOAT: 8
	- CL_DEVICE_PREFERRED_VECTOR_WIDTH_DOUBLE: 4
	- CL_DEVICE_EXTENSIONS: 17
	- Extensions:
		- cl_khr_fp64
		- cl_amd_fp64
		- cl_khr_global_int32_base_atomics
		- cl_khr_global_int32_extended_atomics
		- cl_khr_local_int32_base_atomics
		- cl_khr_local_int32_extended_atomics
		- cl_khr_3d_image_writes
		- cl_khr_byte_addressable_store
		- cl_khr_gl_sharing
		- cl_ext_device_fission
		- cl_amd_device_attribute_query
		- cl_amd_vec3
		- cl_amd_printf
		- cl_amd_media_ops
		- cl_amd_media_ops2
		- cl_amd_popcnt
		- cl_khr_d3d10_sharing